Saturday January 5th, 2019
I am currently sitting in JFK awaiting my 11:50 PM take-off to Tel-Aviv. Since I've got 10 hours to fill, I thought I would send out my first post of the trip. I have spent the last 2 days trying to picture what these next 2 weeks will be like. I have read story after story of people who have been impacted in a powerful way through a trip to Israel. For me, I have gotten a taste of what it will be like and that was almost overwhelming, so I cannot even imagine what God will do through this trip.
When I traveled to Jordan, I did not expect the deep spiritual and emotional stirring that I experienced. Seeing places that I had read about my entire life. Seeing the mountain city of Petra that I had written a college paper on many years before was amazing. Seeing the citadel where David sent Uriah to be killed so that he could marry Bathsheba was incredible. Seeing the hill where Jesus drove out a legion of demons into a herd of pigs who rushed to their death in the water below was awesome. Standing on Mt Nebo, in the place where God granted Moses a view of the Promised Land that he would not enter into, was particularly tough for me as I would be that close (like Moses) but not be entering into Israel either. At that time, I had no idea if I would ever have the chance to return. Up until then, I had never had much of a desire to go to Israel, but standing there, looking out on the Land that God had given to Israel, something stirred deep in my soul and I remember being brought to tears.
Now, about 6 years later, God has opened the door for me to experience Israel, to walk in the footsteps of the Israelites, of Paul, of Peter, and of Jesus Himself. And, in a way that only God could move, I have the added bonus of this trip fulfilling my last 3 credits for my Master's Degree! God has given me the desire of my heart in 2 separate areas!
My prayer for this trip is that God would speak to me in a fresh way. Please pray with me for safety, for my family as I'm away, and for a life transforming encounter with the presence and power of God. Pastors say that this is a trip that will change who I am as a pastor. They say that they returned as better men and better pastors. That may be why the leadership agreed to let me go! They figured I need to learn to be a pastor!
During this trip, I am asking you for a couple of things. First, as I mentioned already, pray. Pray for what I've asked for but PLEASE pray however God leads you to as well. I know that He has a plan that is beyond anything that has crossed my mind at this point. Second, please interact with me! Reply to the posts, send me an email, (derichter1224@gmail.com ) or shoot me a text. (I can receive texts while there) Ask questions, make comments, I will miss all of you and need to connect with you!
I love you all, thank you for this opportunity, see you soon!
Dan
Monday January 7th, 2019
Today was our first real day of touring. Sunday was all spent traveling and by the time I got to our hotel and grabbed a quick dinner, it was all that I could do to get up the stairs and collapse in bed. We left JFK at midnight on Saturday night (Technically Sunday Morning) and arrived at 5 PM (10 AM Ohio Time) in Tel Aviv. By the time we got through customs and boarded the bus for our two hour drive to Mitzpe Ramon, it was almost 7. We pulled into the hotel at 9 after driving through, what we were told was, beautiful countryside. It was dark so the only thing I really noticed was the IKEA that we passed!
A couple of general observations. First, Israel is COLD! I was not very smart and did not check the weather. I packed according to the tour company's packing list. I have 10 pairs of shorts, 10 short sleeve shirts, one pair of long pants, and a light jacket. It was 30 degrees when we started this morning!! I have already told the group I am with that they better get used to the outfit I wore today because they are going to see it every day for the next two weeks! Second, I am not going to lose any weight on this trip! The meals have been fantastic. All sorts of fresh bread, fruit, veggies, and cheeses. The Hummus is simply better than anything we can get in America. There's also been a bunch of stuff that I am not quite sure what it is but I loved it! Finally, my roommate is a great guy, fellow Alliance Pastor, and the loudest snorer that I have ever heard! Pray that I fall asleep first!
We began the trip today in the wilderness in the South of Israel. We hiked a couple of different places and the terrain was rugged and harsh. There was no water, no greenery, and very little sign of any life. We did see some Ibex climbing up the steep slopes. This, along with much of Jordan, was where the Israelites wandered. It must have been a miserable 40 years! I had seen the terrain before in Jordan so I knew that the wandering was not easy but one thing that I had never taken into account was the cold. You hear desert and you don't think of cold being a factor. I was freezing today and I can only imagine and it gave me a slightly different perspective on the plight of the wandering Israelites. We toured an ancient Nabatean settlement which would have been a part of a trade route between Egypt and the city of Petra. There were the ruins of an old wine press as well as a temple that had been converted to a Byzantine church complete with a baptistry. Next, we toured an area in the Wilderness of Zin and read from Numbers 20 where Moses and the entirety of the community gathered in that same wilderness. It is incredible for me to see the actual landscape and geography of these accounts, it adds so much to your understanding of the passage.
As we drove in the bus, I did my reading on the Bible app on my phone. I'm going through the Bible in a year. It was from Genesis 21 and Abraham had made a covenant with a man over a claim to a well. He named the place Beersheba which means "well of oath." A few minutes later we arrived in ancient Beersheba! I was able to see the area where this took place and tour the ruins of an ancient Israeli walled city. From there we toured an ancient gravesite and a series of caves. As I write, we're settled into our hotel for the night on the shores of the Mediterranean Sea in the port city of Ashqelon. (Ashkelon) This was one of the 5 Philistine cities that were always in conflict with Israel and is mentioned several times in the OT. Tomorrow we'll spend some time exploring here before we're off to the neutral stop.
It was a great day and I am excited for what's coming. We haven't even gotten to the good stuff yet!
Here is the link to my itinerary if you haven't seen it yet. https://emmausonline.net/tours/2019-nyack-ats-winterim/itinerary.html There's also a link to the packing list there if you want to see how woefully unprepared I am for cold weather!!!!
Love you guys!
Tuesday January 8, 2019
Today was a pretty rough day weather wise but we saw some great sites. Thank goodness that there was espresso at breakfast, after 5 of them (roommate snored all night and I got about 2 hours of sleep!) I was ready to tackle the day! We left Ashqelon at 8 and drove to the site of Ancient Gezer. We parked the bus and had about a mile to hike back to the site. This was an old Canaanite and Philistine city that was attacked but not overtaken by Joshua and the Israelites. It was conquered much later by Pharaoh of Egypt and given to King Solomon who fortified it. (1 Kings 9:16) Gezer appears in the OT narrative in quite a few places. (Joshua 16:10, 2 Samuel 5:25 to name a couple) As we looked out over the ruins, it was immediately evident how strategic this city would have been and how vital it was for the Israelites to control and defend. From this city, you could look around and see miles in all directions. To control Gezer was to control the major North/South route as well as access to the Judaean hill country, a major route to the city of Jerusalem. Any invading army that was going to attack Jerusalem from the coast would have to pass through Gezer. This was a crucial point of defense for the Israelites.
Among the ruins was a deep pit that was dug into the rock. This was dug by the Canaanites and extended all the way down to the water table. In those days, it was crucial for any city to have access to water in the event of a siege and for that water supply to be inaccessible to an invading army. This water system fit the bill. It is mind boggling to see a feat of engineering like this. There were steps carved into the stone that descended into the depths in order to have access to the water. We were able to go down a little bit and peer into the entrance of the chasm. However, the shriek of bats and the occasional flutter of wings made that overlook plenty close enough! I was not upset in the least to put some distance between myself and that cave!
There were also ruins of the Canaanite gates as well as the gates that Solomon built to fortify the city. 1 Kings 9:17 talks about him rebuilding the city and archaeology has unearthed gates that are consistent with Solomon's unique style. Most gates of that day were 2 chambered gates, that is there were 2 rooms on either side of the entrance that would have been guarded. Solomon's gates were three chambered. At Gezer you have the ruins of the old 2 chambered Canaanite gates as well as the three chambered gates of Solomon. Again, the strategic location of this city made defending it essential!
We walked a bit further to a ridge that overlooked the Valley of Aijalon and the ridge route of Beth Horan. This was the site of many battles and Beth Hiram is where Joshua was fighting when God made the sun stand still in Joshua 10! It is so amazing to see the places that I've read about my whole life! It also transforms your understanding of these accounts when you see the Geography of the land. Why were the battles fought in these particular places? Because the geography dictated it! The geography and the stories fit hand in glove and I could literally picture the invading armies gathering in the valleys below. I love this stuff!
From Gezer we went to Caesarea. We had to hurry through this part, unfortunately, because the wind was insane and it was going to pour at any moment. This was a man made port city that was built by King Herod and, at the time, was the second largest port in the world. Now things start to get really good! It's one thing to stand over a vast valley and say, "such and such happened in this general vicinity." It's another thing altogether to stand on ruins and know the exact spot where the Biblical account took place. We were able to do that in Caesarea. Herod built an opulent and immense palace overlooking the Mediterranean Sea. We were able to tour the ruins. (I've sent pics to James, hopefully he can post some of them, they're also posted on my FB page.) This was where Pontius Pilate later lived and where Paul was kept as a prisoner for 2 years. There is an inscription that bears the name Pilate and is dedicated to the emperor Tiberius, an attempt by Pilate to put himself in the good graces of the emperor. We also walked through the almost intact remains of the theater that Herod built. This is the auditorium referenced in Acts 25 where Paul spoke with King Agrippa and the governor, Festus. How cool to stand in the very place where Paul preached his heart out! This is also where Agrippa later died. Caesarea is also the home of Cornelius and his family. In Acts 10, God sends Peter to Caesarea to share the Good News with Cornelius and he and his entire family are saved. Cornelius in the first recorded Gentile convert to Christianity! Caesarea was an incredibly important city on the world stage and within the Biblical narrative. There were a few other things to see there that we had to skip due to weather. I could have stayed there all day!
From there we had to improvise to avoid the monsoon conditions and we spent some time in a museum in Haifa before traveling back down the coast to the city of Dor where we'll spend tonight. I have always imagined Israel to be hot and dry, that is obviously a misconception! It's been wet and freezing but the weather looks more promising in the coming days. Tomorrow we get into the life of Christ and head to Nazareth. I can't wait!
Wednesday January 9th, 2019
Today has been a great day but there has been a lot to process. I have been trying to pay attention and keep everything straight but a part of my mind and my heart are back in Ohio with my wife as she gets ready to drop Catherine off on campus at MVNU for her first residential semester. It's crazy how fast time goes by and I have had a lump in my throat all day knowing that when I get home, just like it was with Ethan going to school, things will never truly be the same again. Cate, I love you kid, you're going to do great things!
Alright, back to Israel! My body has decided that I only need 2 hours of sleep to function. I struggled again last night, no snoring issue this time, just couldn't sleep. Thankfully there was an espresso machine at breakfast! After 6 shots of espresso and a cappuccino, I was ready to roll! We left Dor and headed to our first stop, a Carmelite monastery with a tremendous view that is the traditional site of Elijah taking on the prophets of Baal. Mount Carmel was thought to be the dwelling place of the pagan god Baal, who was introduced to Israel through Jezebel, the Phoenician princess who married King Ahab. Elijah even gave Baal home court advantage! This story was a favorite of mine as a kid, mainly because of Elijah's taunting of the prophets of Baal and of the image that was conjured in the mind of fire streaking down from heaven to consume everything in its path. As we looked out over the mountains, we saw a jackal trot by on a path below us. It was a beautiful animal! After a few minutes of picture taking, a cold rain began to pelt us, we hustled to the bus and headed to stop #2.
Our second stop was the archeological remains of the city of Tiporah or Sepphoris. This is located in lower Galilee, not too far from Nazareth. There were the ruins of a Roman theater, a Jewish city, and a Roman mansion. The Roman mansion had an amazing mosaic on the floor. It was made up of different imaged depicting storied of Dionysus. The detail was amazing! I posted some pics on FB and sent some to James to post as well. There was no Biblical narrative that accompanied this site but it was fascinating to see the different styles and the periods that were represented there.
Stop three was where things started to get real! We went to Nazareth and walked through the Church of the Annunciation. This church is a functioning church and holds services and cares for the community around it. It is also built right on top of ancient Nazareth, the very small village that was the home of Mary and where she and Joseph settled with Jesus after their return from Egypt. The ruins of the village are worked into the architecture of the church and the highlight is the place where tradition holds that Gabriel appeared to Mary. Even if this is not the exact place, Nazareth was small enough that Jesus would have been in that dwelling. Seeing where Christ walked, where God himself would have played and run around was very surreal and honestly, I'm going to be processing this for a while. I kept picturing Jesus as a toddler learning to navigate the stairs in that room, or as a teen running around with his friends. This site really hammers home the humanity of Christ and underscores the sacrifice that he made to leave the riches of heaven for the unglamorous mundane village of Nazareth. After leaving the church, (that's pretty much all there is to see of Biblical importance in Nazareth) we stopped an grabbed lunch. For the second day in a row I had an amazing shawarma! I could get used to this food!
After lunch we drove to the Arbel Pass and hiked about a half mile up a mountain. Once again I was struck by the difficulty of the terrain and how fit the people of that region must have been to travel the rocky, hilly terrain on a daily basis. Pictures and words simply cannot do the view on top of that mountain justice. Short of the Grand Canyon, I have never seen anything like it! On one side, the entirety of the Sea of Galilee stretched out before you. In the other direction you can see jagged outcroppings and rolling green hills. As you look down on the Sea, you can see the Mount of the Beautitudes as well as the cities of Chorazin and Bethsaida, the cities of woe that Jesus mentions in Luke 10:13. You can also see the city of Capernaum, which we will be visiting in the next couple of days. As I write this, we are nestled down on the eastern shore of the Sea of Galilee in a town called Ein Gev. I can hear the water lapping up on the shore just outside my window.
This trip has been amazing and the best is still to come. I cannot imagine the emotions that some of these New Testament sites will stir up. If Nazareth is any indication, the feelings of absolute awe will be my constant companion in the days to come. I cannot even begin to think about what Jerusalem will be like! This country is more beautiful than I ever imagined. God certainly gave his people an amazing gift in this land. I continue to stand amazed as the Bible is coming to life before my eyes! To my CBC family, thank you for allowing me to do this!
Talk to you tomorrow!
Thursday January 10, 2019
Happy Birthday to my wonderful wife! I love the opportunity to travel but I always wish that she was with me. There have been so many times already on this trip that I have wished that I could experience this with her. Next time! Maybe we'll plan a church trip.
Today was a long day with a ton of walking. Thankfully, I finally had a full night sleep. Thank you for your prayers, I got in 10 hours of sleep last night and felt so much better today. What a difference a little shut eye makes. As we traveled today from our starting point on the Sea of Galilee, we headed up into the mountains into an area known as the Golan Heights. We made our way towards the northern border of Israel, almost to the border of Syria. At different times today we had views of Israel, Lebanon, and Syria. We ended the day up on a mountain overlook with a sprawling and spectacular view of the region including a breathtaking view of snow covered Mt. Hermon. I had no idea that any snow existed in the Middle East! This is the mountain that some have posited was the site of the Transfiguration. We looked out over areas that have been ravaged by conflict and war. The old city of Quneitra was visible. This city was returned to Syria by Israel but they refused to repopulate it. Instead, they built New Quneitra just a short distance away. (Also Visible) The old city remains nothing but the bombed out husks of buildings and houses. It was a sober reminder of, at best, the tenuous peace and, at worst the brutal hatred and conflict that exists in that region.
We started the day off at the archeological site of Hazor. This was one of the cities that was conquered by Joshua and the ruins of the palace of the King that Joshua razed have been unearthed. This palace is over 3000 years old! In Joshua 11 we read that this is the only city that Joshua burned. In the remains that have been discovered, the rocks show fracturing that could only have been caused by intense heat. There is evidence of a great fire! The archeological evidence reveals the accuracy of the Biblical account. I have no doubts that the Bible is real and I have no doubt that it is historically accurate but it is still amazing to see concrete evidence of that as revealed through what has been unearthed. Hazor, like Gezer, is also mentioned in 1 Kings 9:15 as one of the cities that Solomon fortified. There are the remains, also like Gezer, of a three chambered Solomonic gate. As we approached Hazor from the road, it was very obvious as to why the defense of this area was essential. The geography funneled any invading armies right through this city and to defend it was to deny passage into Galilee. As we learned a couple of days ago, any major city had to have access to water in times of siege. Hazor was no exception and there was an immense pit that had been dug down to the water table and a series of stairs chiseled into the rock that allowed access to the water. Again, picturing the construction of this was nearly impossible. It would be a major undertaking with modern tools!
From Hazor we went to a nature preserve in Dan. It was nice to be among my people! There were only a couple of sites of Biblical importance but I was blown away by the lush growth and all the green. This looked nothing like what I expected in Israel. It has been amazing to see all of the differences in topography. We have moved from the wilderness, gone through the plains, traveled up and over mountains, and seen every imaginable landscape unfolding before us. This is an absolutely gorgeous country. This area was fed by the Spring of Dan which emanated from underneath the surrounding mountains and formed one of three tributaries of the Jordan River. As we walked along we came to a sacred high place that had been built by the Israelite King Jeroboam. 1 Kings 12:32-33 talks about this. He built this in Dan as a place to worship but it was spoken against by the prophets because it was outside of the city of Jerusalem. As the professor told the story I was struck anew by what it was that Jesus accomplished for us. His death and resurrection, the relationship that He enables us to have with God, makes the question of where and how we worship irrelevant. We are free to meet God anywhere. We are free to worship Him anywhere. We are freed from the regulations of the sacrificial system thanks to the sacrifice of Jesus himself. I don't know that I will ever fully understand the way things were back then but I do know that I am beyond thankful for the way things are now and the grace of God displayed though Christ! There was a metal replica of the dimensions of the altar and it was huge! When I pictured these OT altars, I was picturing much smaller versions. The other interesting thing that we saw in Dan was the ruins of a Canaanite gate and entrance to the city. This was from about 1750 BC and would have been there at the time of Abraham. It is a structure that has baffled archaeologists for a few reasons. One of which is the presence of an arched doorway structure some 1000 years before the Romans "invented" this architectural marvel! Finally we saw the remains of an Israelite city and an area where they uncovered a stone with an inscription that included the words "of the house of David." This was the first archeological evidence that David truly existed and was some King Arthurian myth or legend.
From Dan we went to Caesarea Philippi. There were the ruins of a temple to Pan built into the sides of the mountain. This is the city where Jesus asked his disciples in Luke 9:18, Matthew 16:13, and Mark 8:27, "Who do you say that I am?" This question was really the turning point of his earthly ministry as he began to set his face to Jerusalem and reveal to the disciples what He had come to do. The declaration that he was the Messiah was immediately followed but his explanation that He would be killed. He was not going to be the type of Messiah that the people expected. He would not arrive with a sword to conquer those who oppressed the Israelites. He was going to give his life so that the world could live. This is a pivotal exchange found in each of the Synoptic Gospels.
That's it for today, I'm sorry if I'm long winded! I know that it is not nearly as exciting to read this as it is to see it but I am doing my best. I am sure that there will be so many more thoughts and insights as I have time to process. To see the Bible come alive in this way is a gift. To put pictures with the stories, to see the terrain that the people walked, this is a lifelong dream come true! I have to keep pinching myself! Especially when I think that we still have Jericho, Qumran (Dead Sea Scrolls), Bethlehem, and Jerusalem to see!
Started off the morning at Hazor. This is one of the cities that Solomon fortified in 1 Kings 9:15. It sits high on a mountain pass and was an essential city to control and defend the route into Galilee. There is an ancient palace that shows fracturing of the walls consistent with a great fire. Read Joshua 11, pretty cool! There's also an amazing water system dig deep into the mountain, hard to imagine that task with primitive tools! Way off in the distance was snow covered Mt Hermon.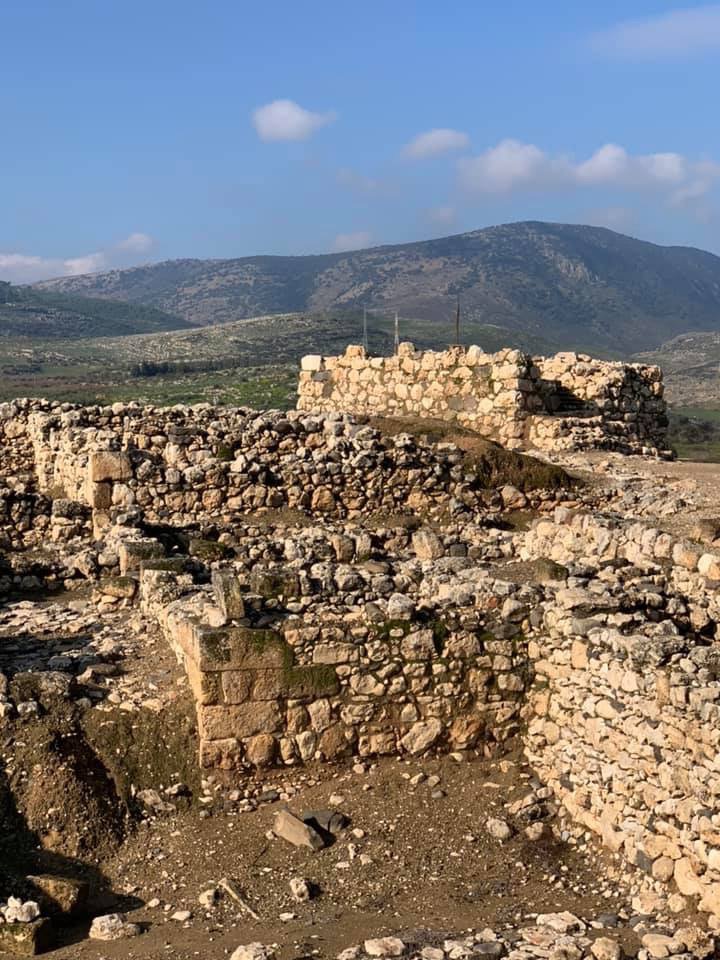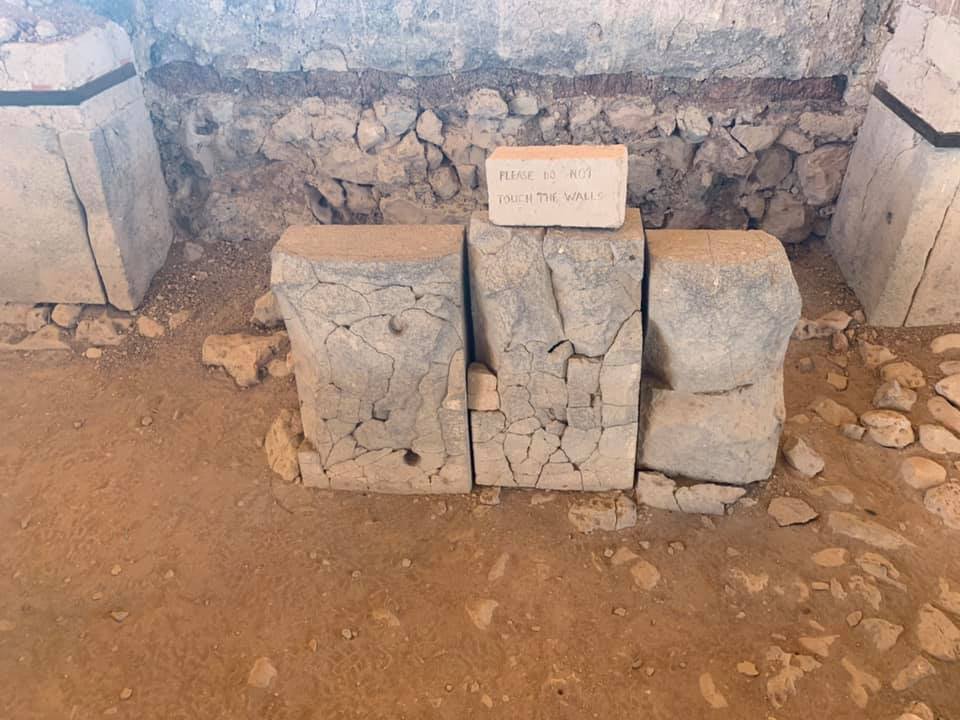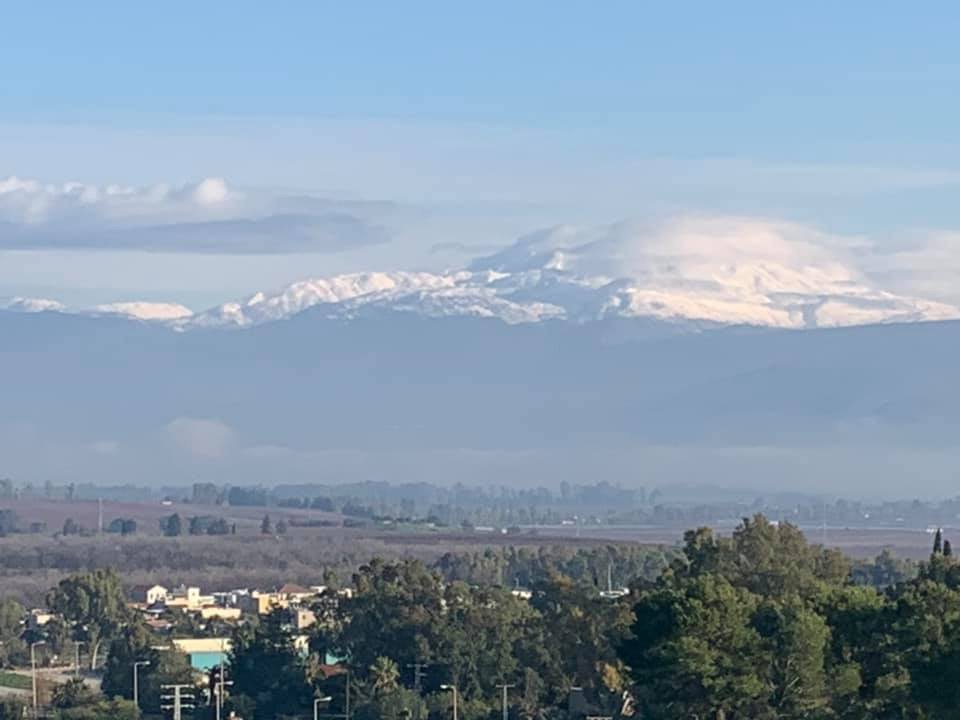 Nature Preserve in Dan. This is blowing up my preconception of What Israel looks like. A Spring runs here from under the surrounding mountains and feeds the Jordan River. It is lush and beautiful. There are ruins of a Canaanite city with an arched entrance dated to the time of Abraham, 1000 years before the Romans "invented" arches! There's also the site of the high place that Jereboam built to worship God. 1 Kings 12:32-33.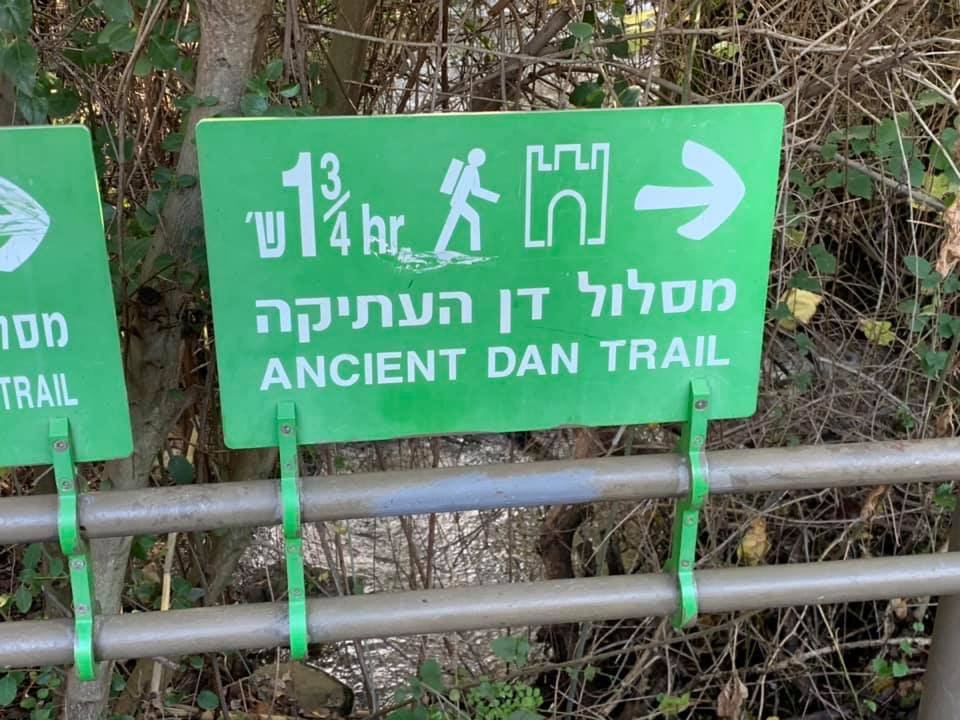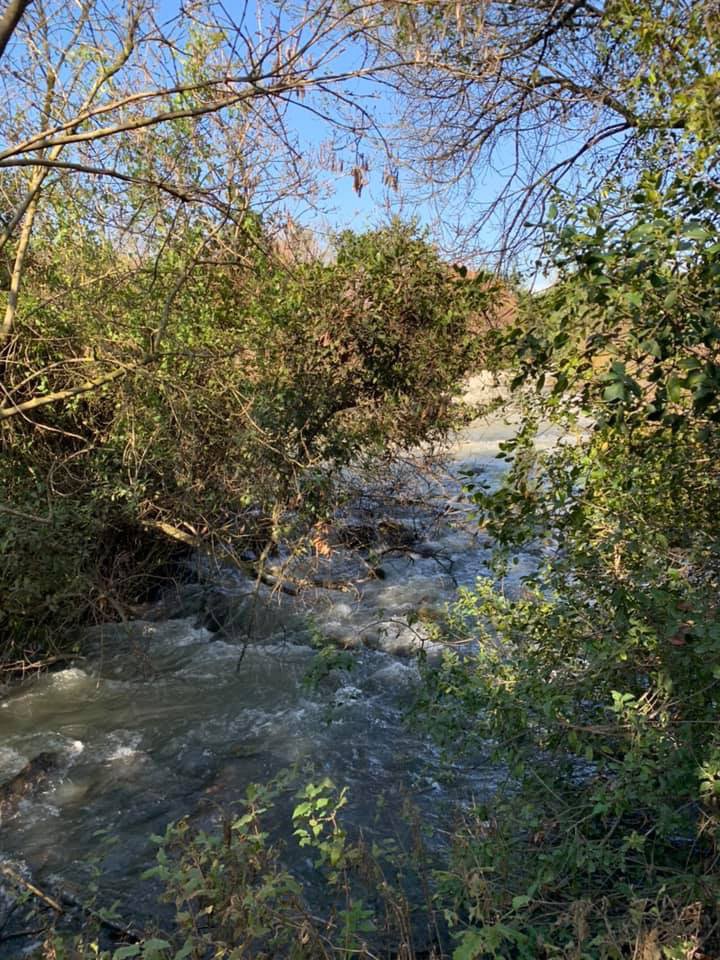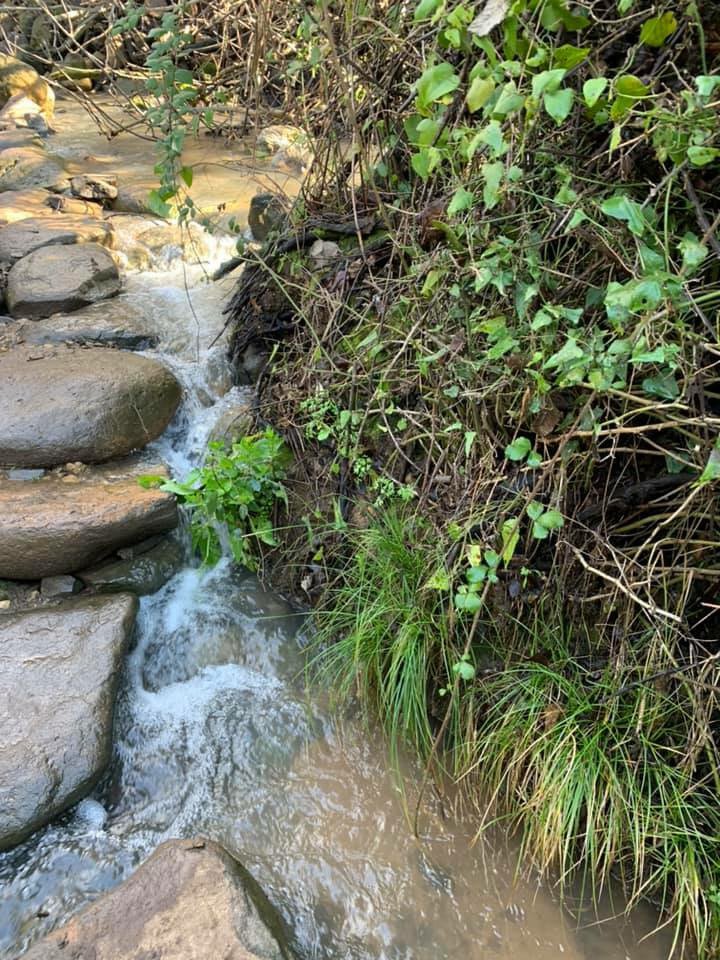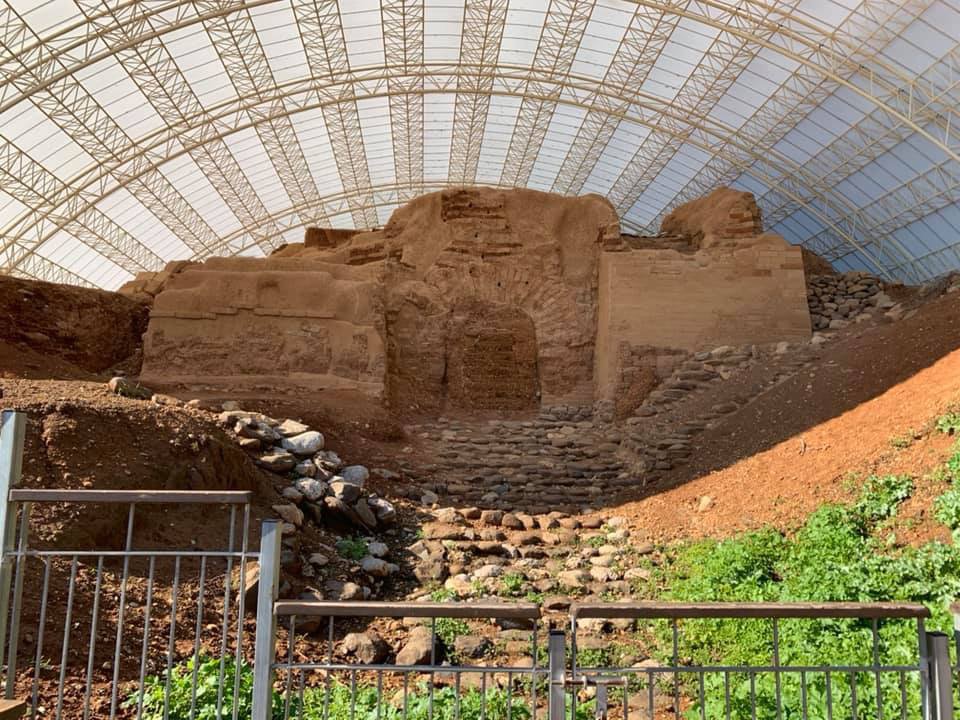 Caesarea Philippi.
Mark 8:27. Who do you say I am?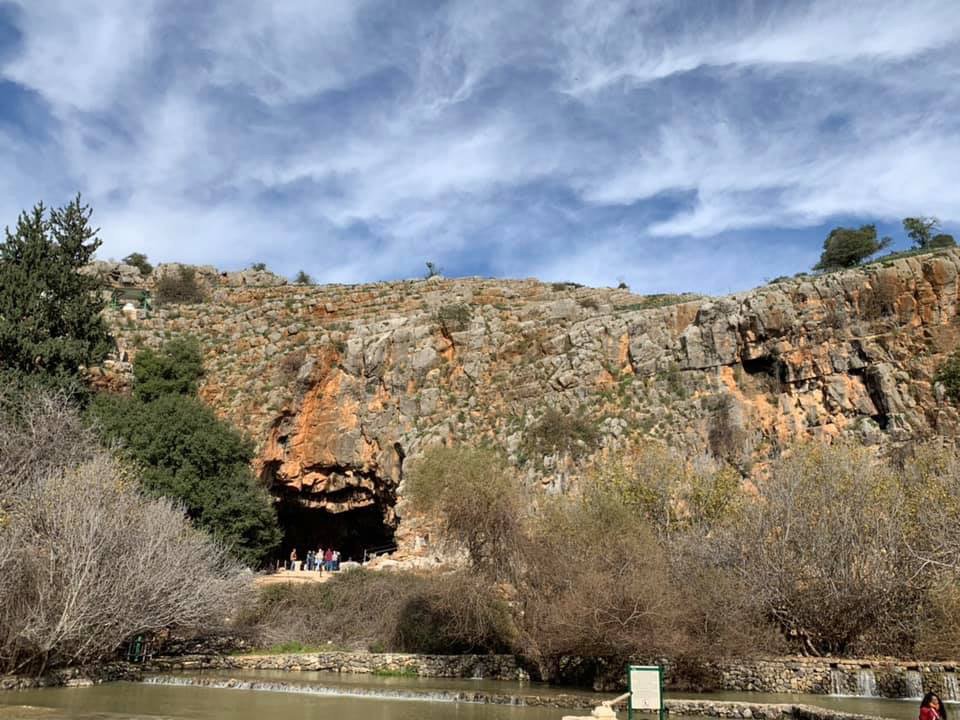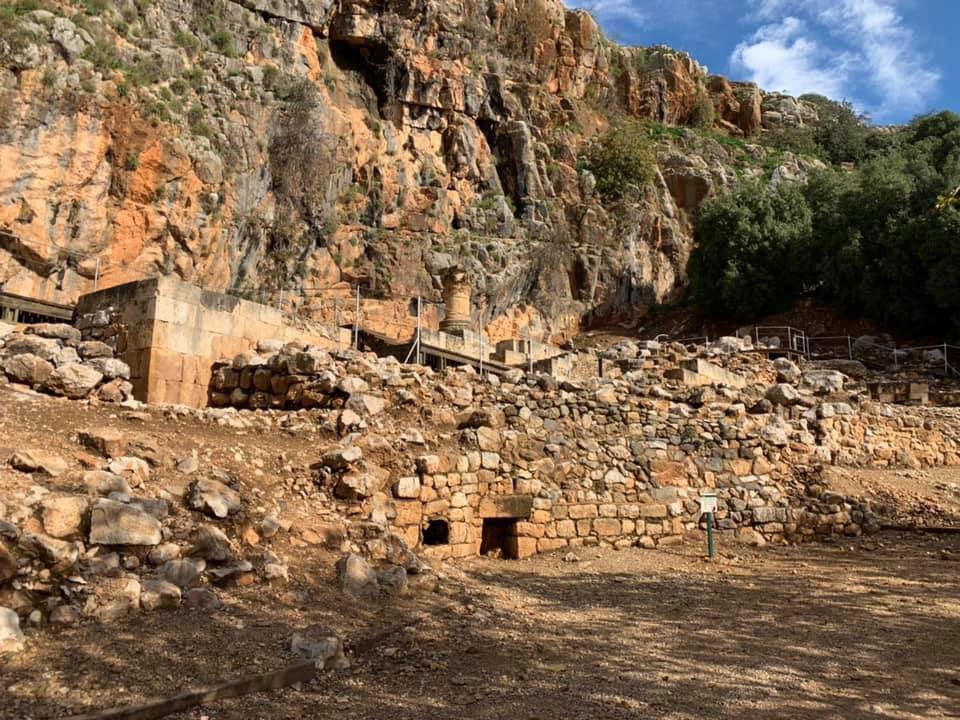 Who doesn't think of snow-capped peaks when you picture the Middle East? On the border of Lebanon and Syria.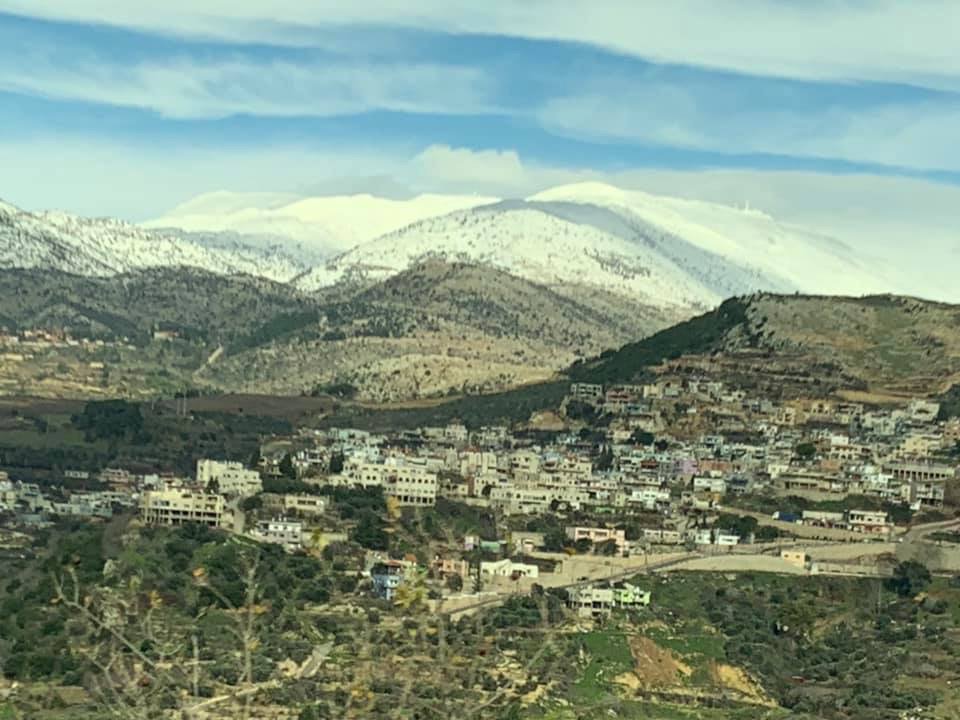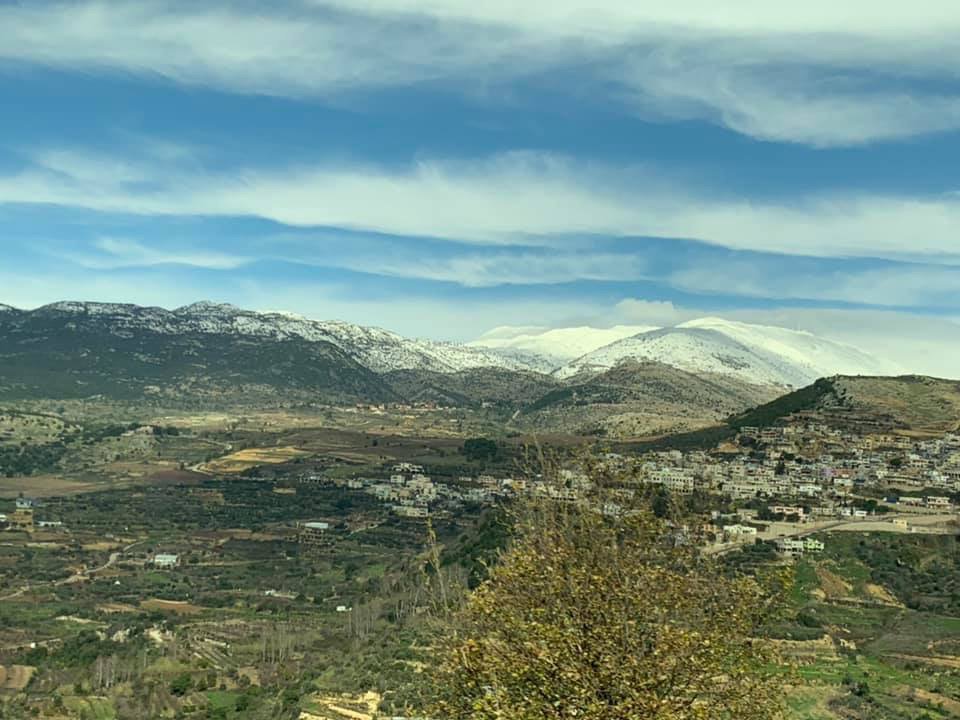 Friday January 11, 2019
Today was a little bit of a different day. We made four stops and each one required a lot of walking to an and from then final destination. Each stop but the last one was a very interesting historical site with no real Biblical relevance. Normally, I love that kind of stuff. History, especially ancient history fascinates me. I have loved my travels to Rome and Athens to see all that there is to see from those areas and to learn more about the history of those empires. Somehow Israel is different. I found myself struggling to engage today and looking forward to our visit to Jericho and the Qumran caves tomorrow. I did my best to pay attention but touring Israel feels like we should be tying everything back to the Bible, and if it's not in the Biblical record, it is simply not as interesting! I will try to be a little more brief today to save space for the days to come!
As we drove out this morning, I was struck again by the beauty of the land. What an amazing sight this land must have been for the Israelites after their desert and wilderness exile! Our first stop was the ruins of the ancient city of Gamla. Once again, the vista was breathtaking. This was a strategic Jewish city on the top of a high hill surrounded by lush green valley. The ruins were visible from the mountain we arrived on but we had to hike down a mountainside a little over a mile on some pretty crazy terrain, through a valley, and back up to the site of the ruins. Gamla was a key Jewish city during the Israeli revolt against Rome in the Second Temple Period, first century AD. The Romans laid siege to the city and the spot where they breached the wall was still clearly visible. This site was significant because it contained the ruins of one of the first documented synagogues. Here is where things did get a little interesting for me because it reminded me of the way that we tend to read and interpret Scripture through our Western eyes. For most of us, when we read about the synagogue in Scripture, we immediately equate it to church. There are some peripheral similarities, Scripture was read and taught, but the synagogue was the center of Jewish life and was as much a civic institution as a religious one. This site also had at least three mikvehs, the bath used for Jewish ritual immmersion to cleanse someone from ritual impurity. Seeing these underscored the importance of ritual purity in the lives of the Jews. Once again, we tend to read with our modern interpretation the stories like Jesus eating with sinners. To us, the logical issue is that they are sinful, however, the true issue that Jesus's foes were crying out about was the impurity. Jesus was breaking the Hebrew laws of purity. This is something that is very tough to grasp for a non-Jew and even after in depth explanations, it's still a little murky to me! After viewing the synagogue and the ruins of an olive press, we started the trek back up the mountain. I made it but not easily! I tried to keep up with the college kids on the trip but I am not as athletic and in shape as my ego has tricked me into believing! It was a brutal climb back up and one that I really haven't recovered from, I am still wiped out! We did encounter some sort of guinea pig on steroid looking creatures on the way back up, I started to get close to get some pics but the more I looked, the more they looked like badgers to me so I backed away slowly!
Our second stop was a completely restored Byzantine Synagogue. I won't say much about this, it was interesting only because of how they reconstructed it. This structure was laid to waste in an earthquake. The measured each stone, put a microchip on each one, and let the computer figure out the puzzle of how it all fit together. It is restored to its original form, including the fact that there is no mortar used to hold it together! In the archaeological world, this is a groundbreaking and exciting new technique. The other great reminder that really makes the Bible come alive was the presence of a spring. The more you travel here, the more you see and understand the importance of water. When Jesus talked about water, it meant life to the Israelites. You see the complete dependence of civilization of a water source and it makes some of the teaching of Jesus really take on an added depth.
Our next stop was the traditional site of Bethsaida, however this has been called into question and all but disproved in recent years. Bethsaida is the seaside fishing village of Peter. The site was a mile and a half from the Sea and if the Sea of Galilee was deeper and extended further in Biblical times, the other towns that have been located such as Capernaum would have been completely underwater! This is a bit of a problem. The other problem is that there have been no discoveries that date to the Roman period. They have unearthed an immense and amazing Bronze Age Old Testament city but it is almost certainly not the village of Bethsaida. This was where it was a huge advantage to be with Dr. Notley, the Nyack professor. He actually presented a paper on why this was not Bethsaida and is leading a dig at the site of el-Araj that has already revealed findings that are consistent with the historical record of Bethsaida. This would be a HUGE find and would actually make some people (those with 20 years invested in the other site) extremely angry. We ended the day traipsing through muddy fields back into the new site to view what had been uncovered in the last few years. This walk included signs warning of mines, ducking under barbed wire fences 4 times, dodging huge mounds of cow dung, and splashing through puddles! It was very cool to see this new site and we even got to dig through a bunch of broken Roman era pottery fragments. Finally, we got to really see the Jordan River for the first time and then we called it a night. The only other highlight was getting to meet Michael Card (Christian musician) briefly! Most of you probably don't even know who that is!
So much for being brief! Tomorrow is an exciting day and then we turn our faces towards Jerusalem in the days following.
Good night!
Photos
Brutal hike this morning down into the ancient city of Gamla. The walk back up was tough on this old man!! Gamla doesn't have Biblical significance but was a key Jewish city during the rebellion against Rome in the first century AD. You can see the portion of the wall that the Romans breached to take the city. There was also an early synagogue. Once again, the views were utterly amazing.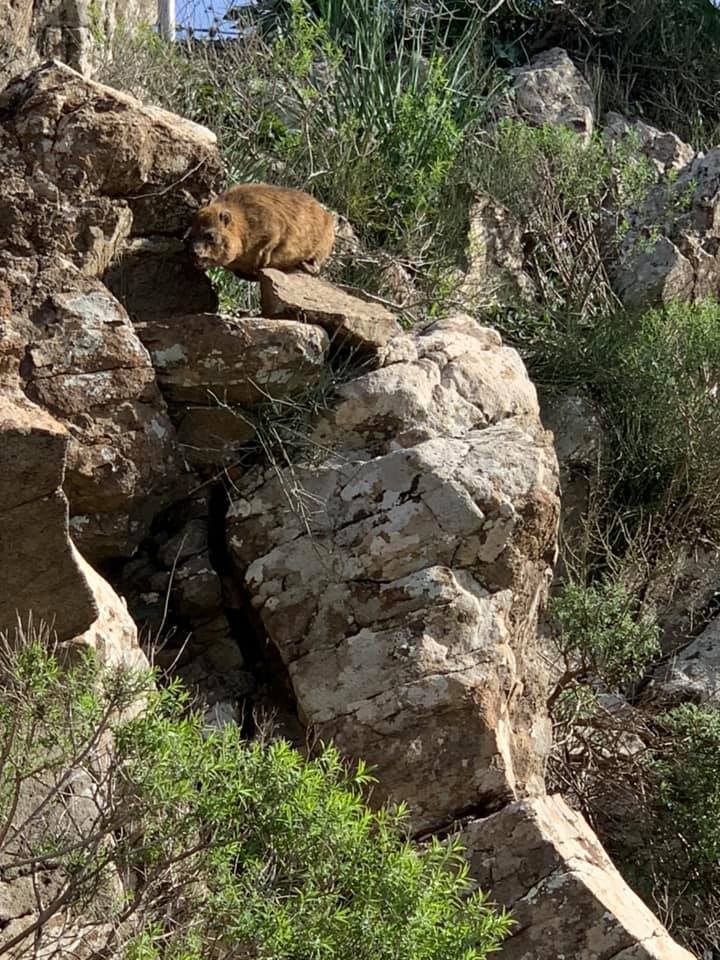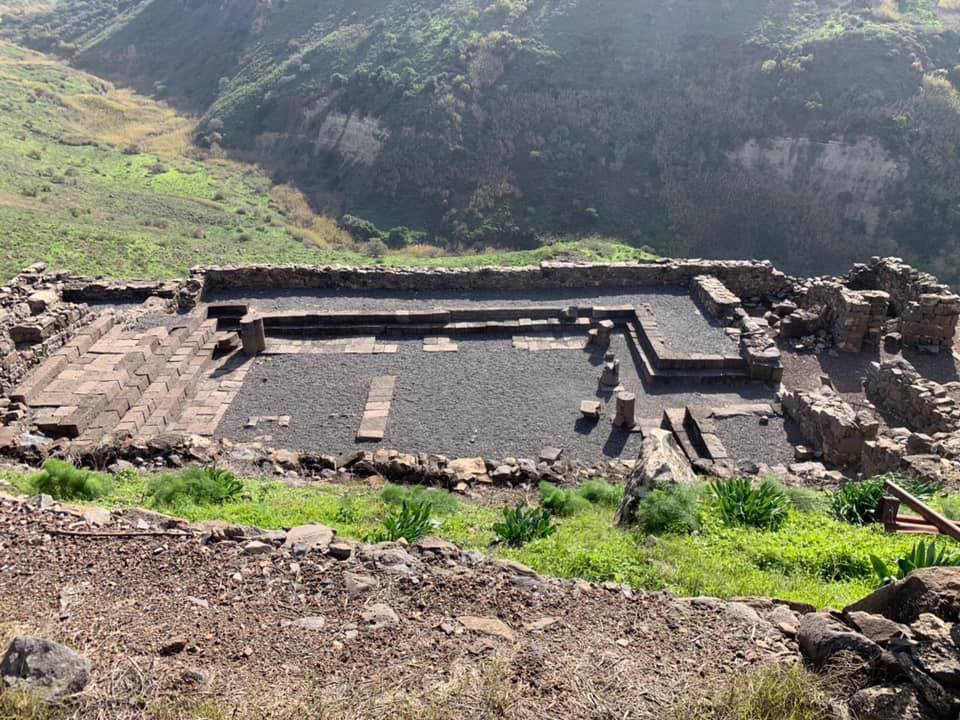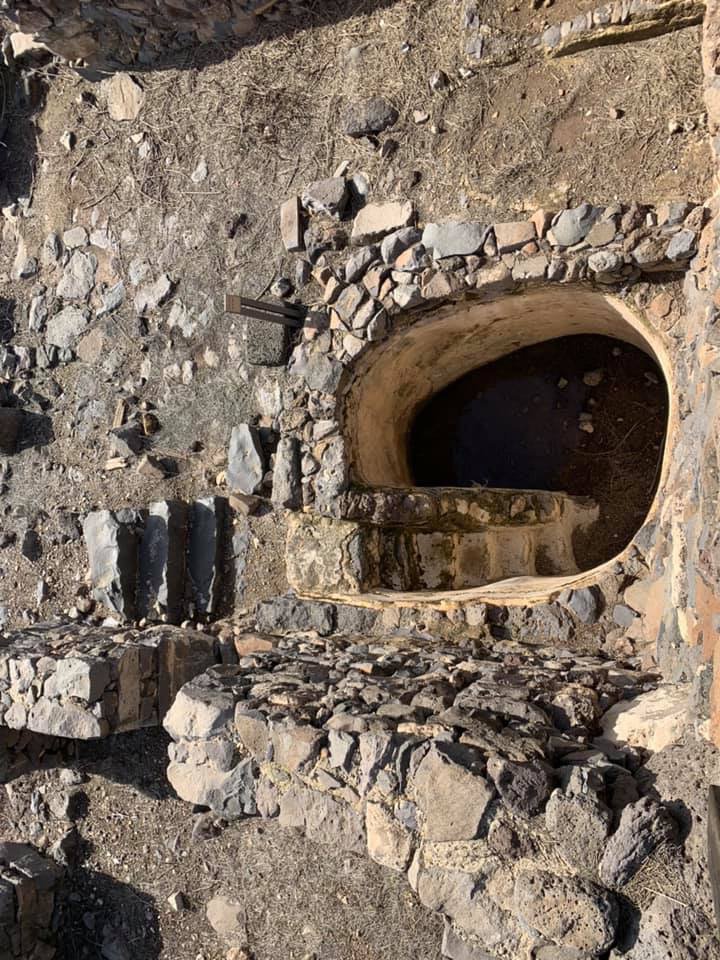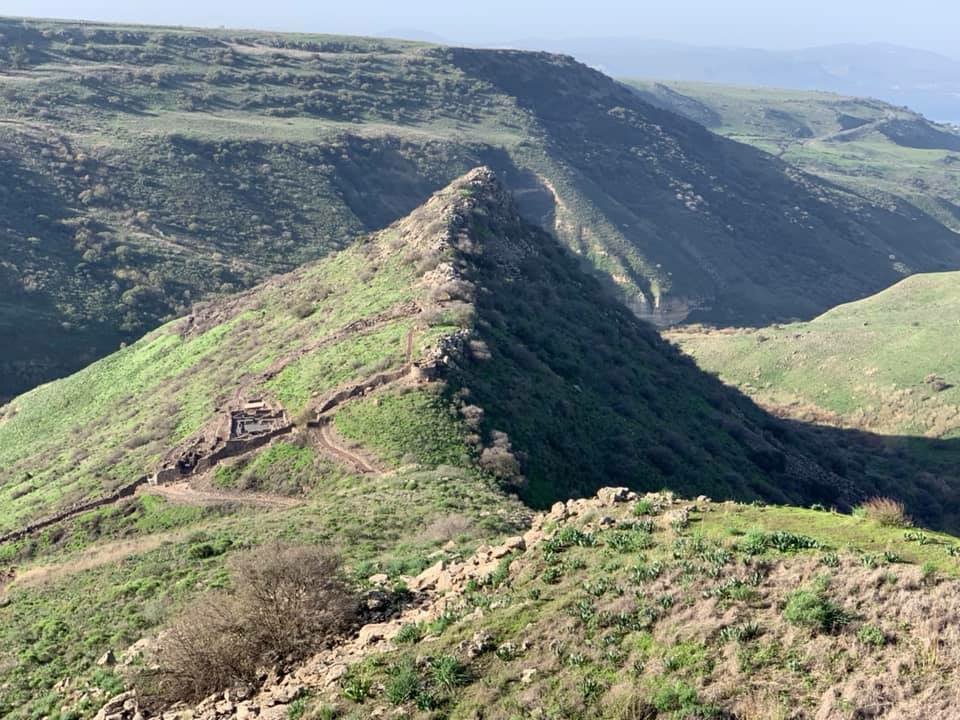 The Jordan River and ancient Bethsaida.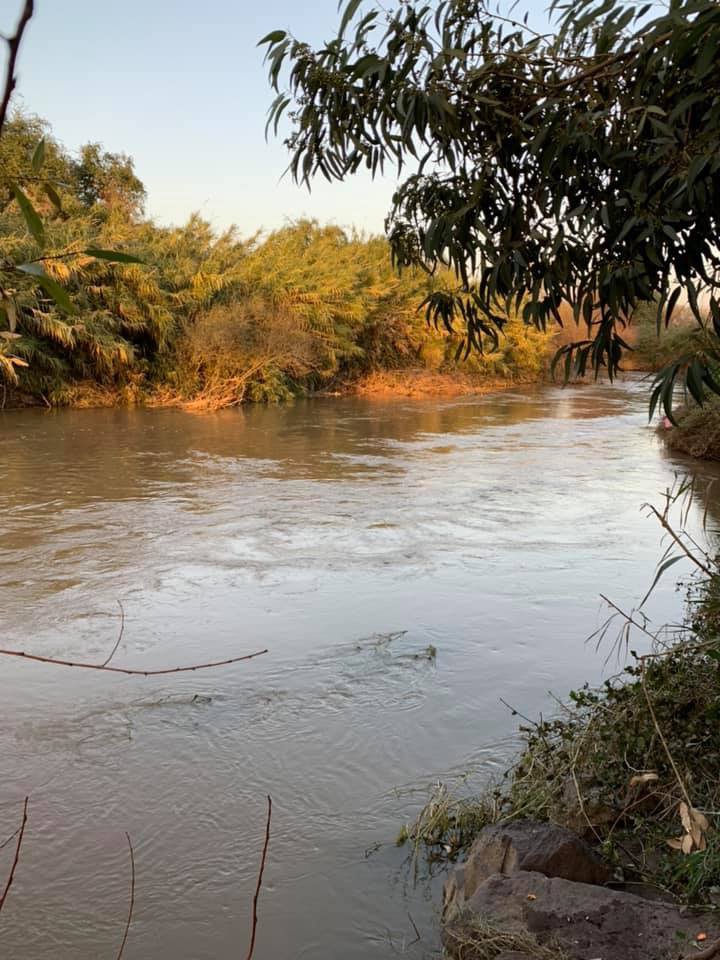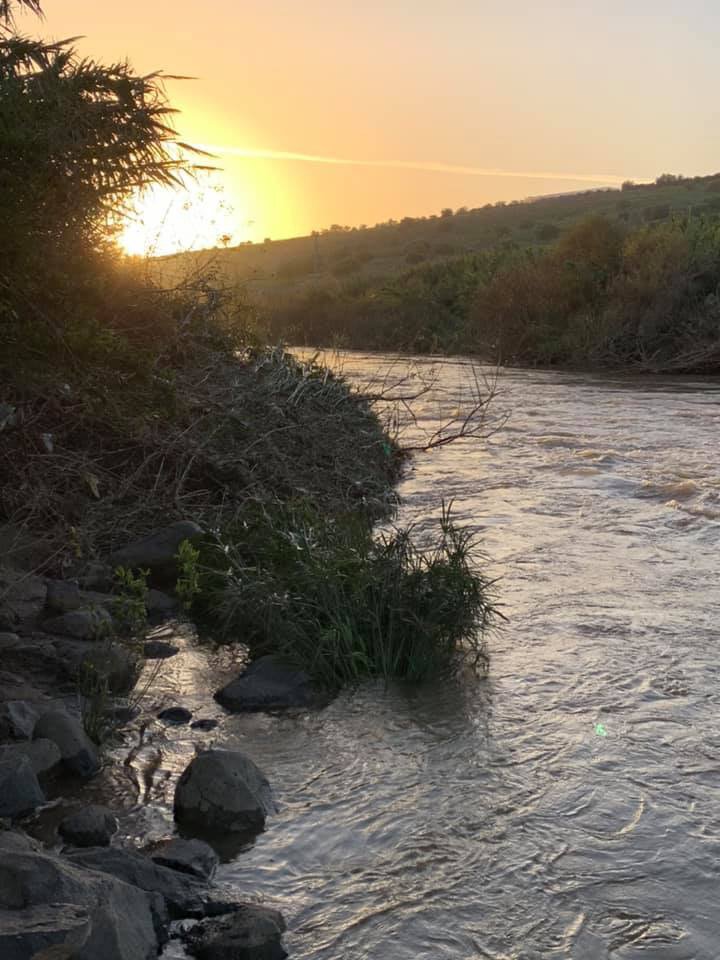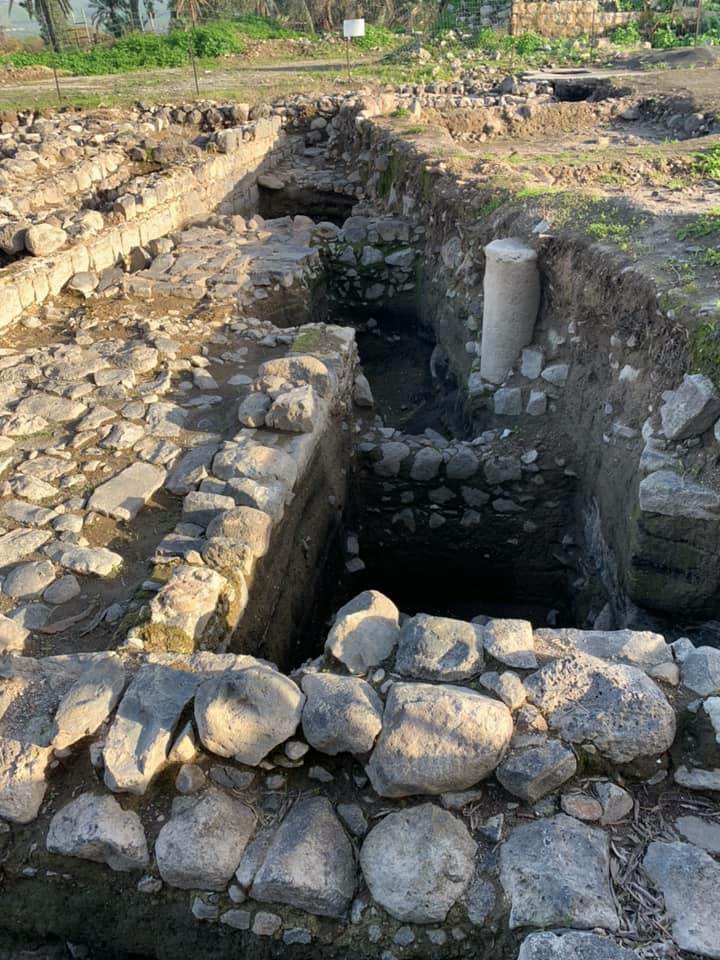 Saturday January 12, 2019
Apparently I got a little bit ahead of myself! Jericho and Qumran are on the docket for tomorrow, I thought that's where we were heading today. I was pleasantly surprised to find out that we were spending the day in some of the towns in Galilee on the shores of the Sea of Galilee. Unlike yesterday, every place we visited today was a place where Jesus would have walked, taught, and even lived! I am utterly exhausted and still trying to process much of the day so I will keep this brief. (For real this time!)
The day included Korazin, the Mount of Beatitudes, Capernaum, and Magdala. Each of the cities had sprawling ruins including a Roman era (time of Jesus) synagogue in Magdala. While there is no mention of Jesus in Magdala specifically, there is little doubt that he would have spent time in this major port city and taught in the very synagogue where we were standing. Korazin, along with Bethsaida, was a city that Jesus mentions in Luke 10:13 and Matthew 11:21. He rebukes them for their lack of repentance and belief after the miracles that he performed there. There was not much amongst the ruins that dated to the time of Jesus but it was neat to walk along the roads knowing that Jesus had walked that path as well.
The mount of the Beatitudes was a beautiful garden site that is now a Catholic Church and retreat center. The general area where Christ is thought to have delivered the Sermon on the Mount overlooked a beautiful lush hillside that ran to the banks of the Sea of Galilee. I found a quiet area under a tree and tried to make a video reading the Beatitudes. I was trying to avoid about 3 other groups while taking a video selfie, something that I am not as skilled as my kids at, so the quality is a bit spotty but it was an incredible experience to read the words of Christ as I looked out over the same area that He would have. I wanted to share at least a little of that experience with you so I sent the video to James, we'll see how it turned out!
Capernaum was hands down the highlight of this trip for me so far. This city was a central hub for Christ's ministry and He spent a considerable amount of time there in the home of Peter, where Jesus heals his mother-in-law in Matthew 8:14-15. We were able to see the remains of Peter's house and it was easy to picture Jesus looking out at the sunset on the water from the house. The house has been built upon several times throughout the centuries but each has preserved the central part of the house because of its significance. There is now a Catholic Church directly over it with a glass floor that looks down upon it. We visited the synagogue there but it was a later construction. However, you could see the line where the new was built directly on top of the old and the walls of the old synagogue, which the Gospels tell us Christ taught in. Again, to stand in the same spots where Jesus walked and taught is a surreal experience. Finally, after Magdala, we ended the day with a sunset boat ride on the Sea of Galilee. God blessed us with an amazing display of his glory through the colors in the sky!
Just a note as I wrap up. As we went several places, I was doing the typical Christian tourist thing and excitedly taking tons of pictures of the spots where Jesus was. The idea that Jesus walked and lived on the very spots that we were was exhilarating. I must have said, "Jesus was here," 100 times today. When I got back to the hotel, I caught a glimpse of myself in the mirror and was immediately struck by the fact that "Jesus LIVES here!" Jesus dwelt in this land as a man but He dwells in you and I as our God. It was a brief and simple encounter but it caused me to praise God anew for the gift of His Son. We don't have to make a pilgrimage to Israel to see the dwelling place of God, just look in the mirror!
Photos
"What sorrow awaits you, Korazin and Bethsaida! For if the miracles I did in you had been done in wicked Tyre and Sidon, their people would have repented of their sins long ago, clothing themselves in burlap and throwing ashes on their heads to show their remorse."
‭‭Matthew‬ ‭11:21‬ ‭
The city of Korazin with a great example of a Roman era (time of Christ) Jewish synagogue.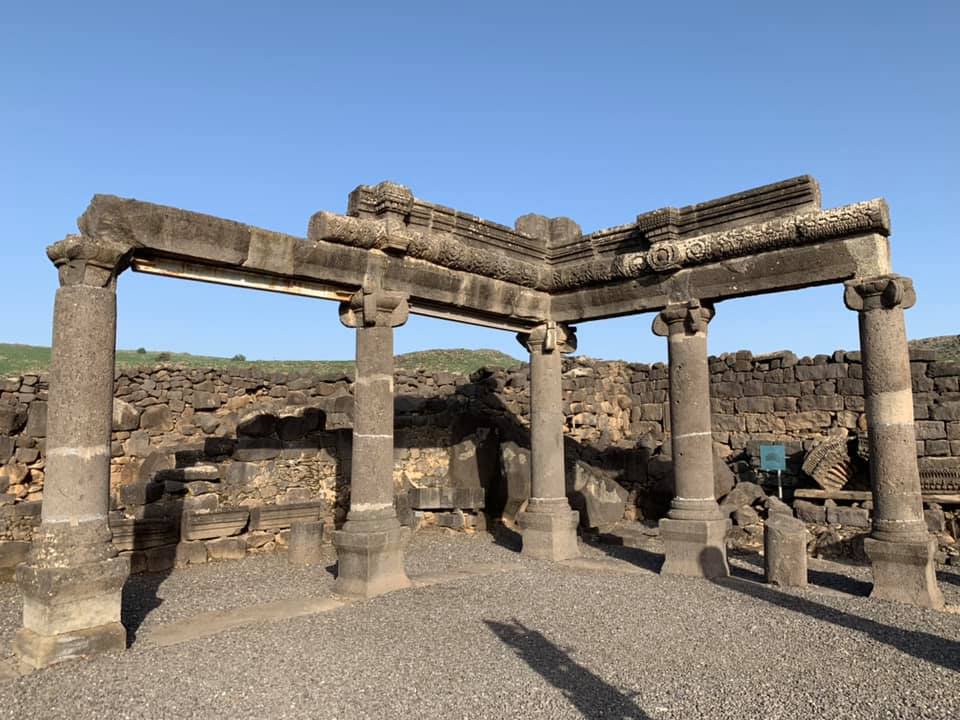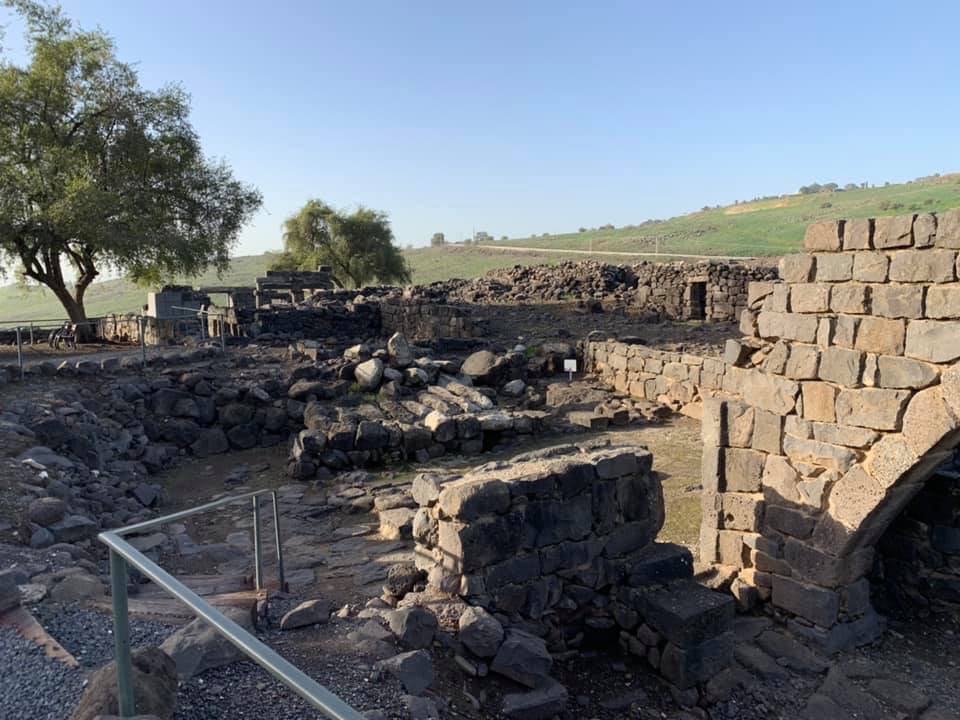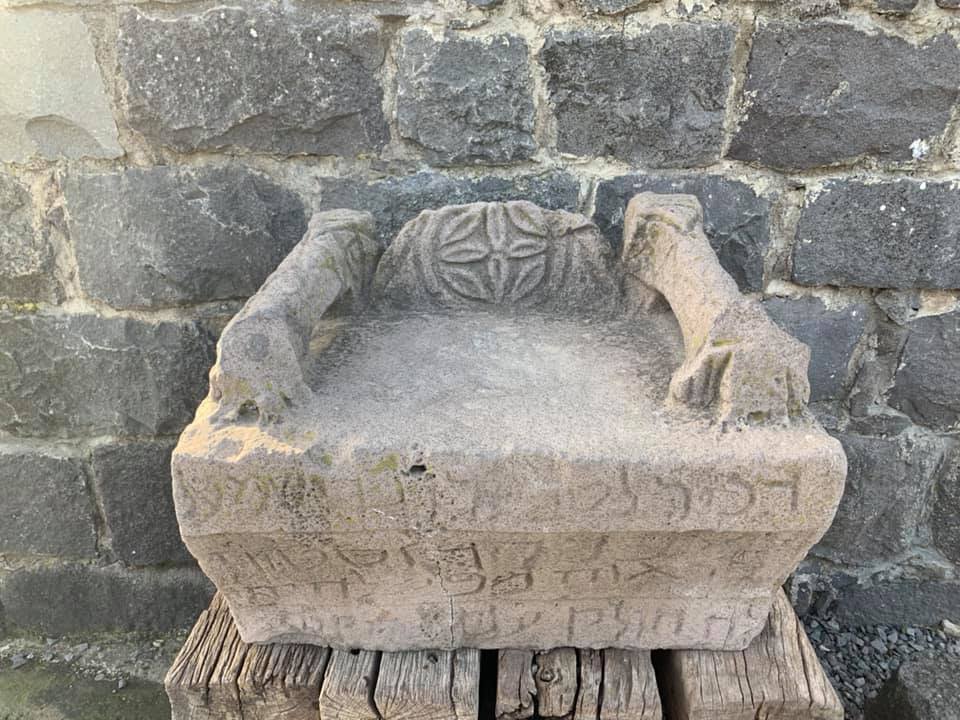 Mount of the Beatitudes. Matthew 5-7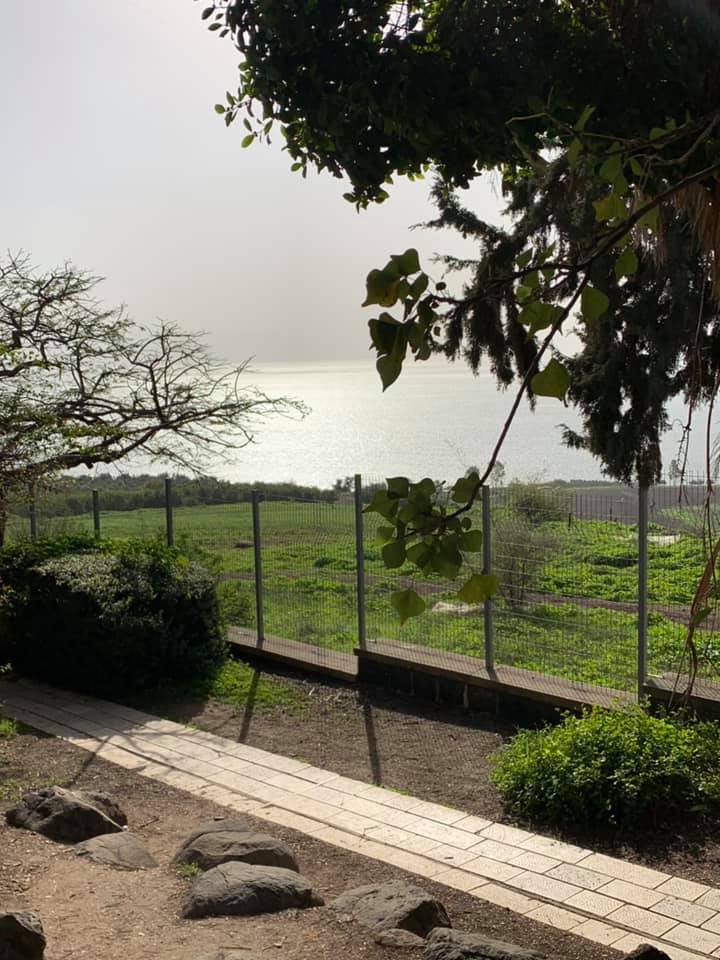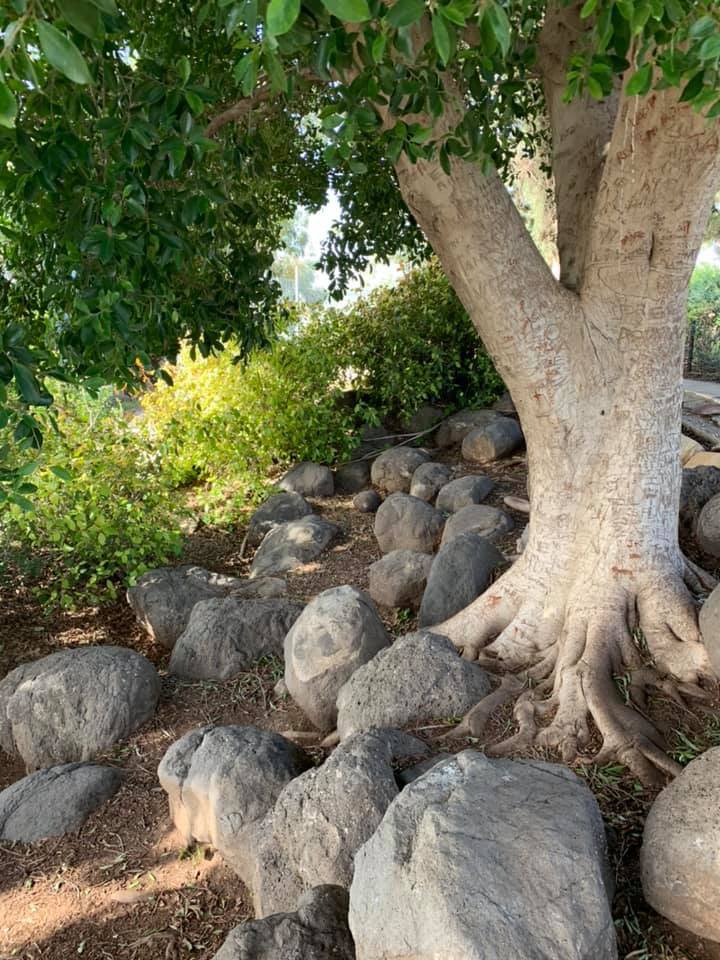 Finally getting into the life and travels of Jesus in our tour. Korazin, Mount of Beatitudes, and just leaving the amazing city of Capernaum. Jesus lived here! We saw the site of Peter's home and the synagogue. The synagogue that stands currently is not the one Jesus taught in. However, if you see the pictures, there is a darker stone under the current structure which would have been the walls of the 1st Century AD structure. This is so incredible! The last three pics are Peters house where Jesus healed his Mother in Law.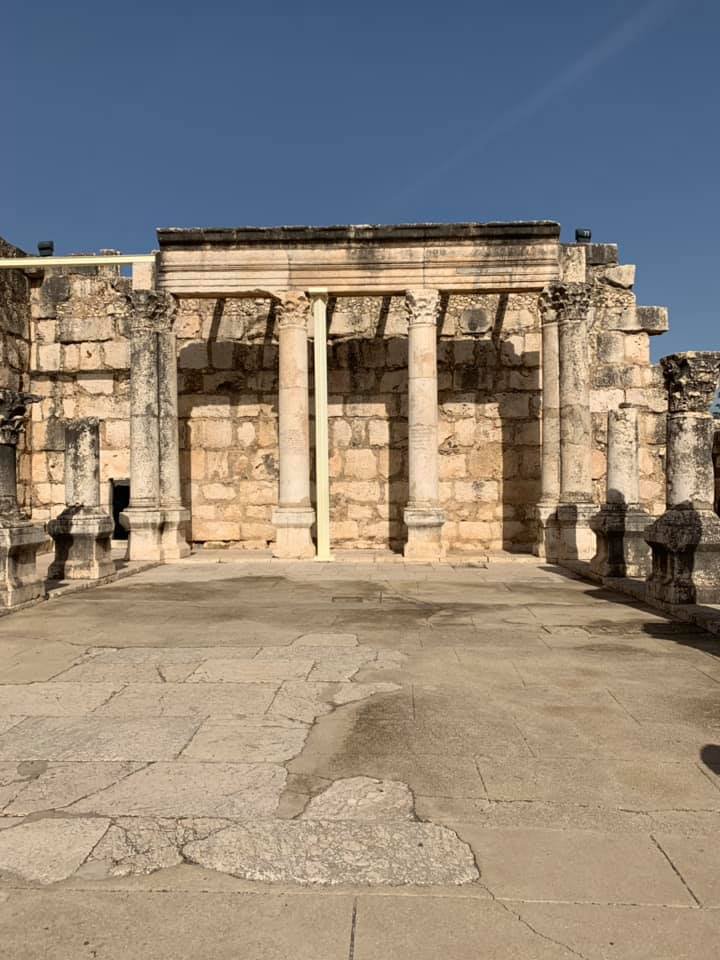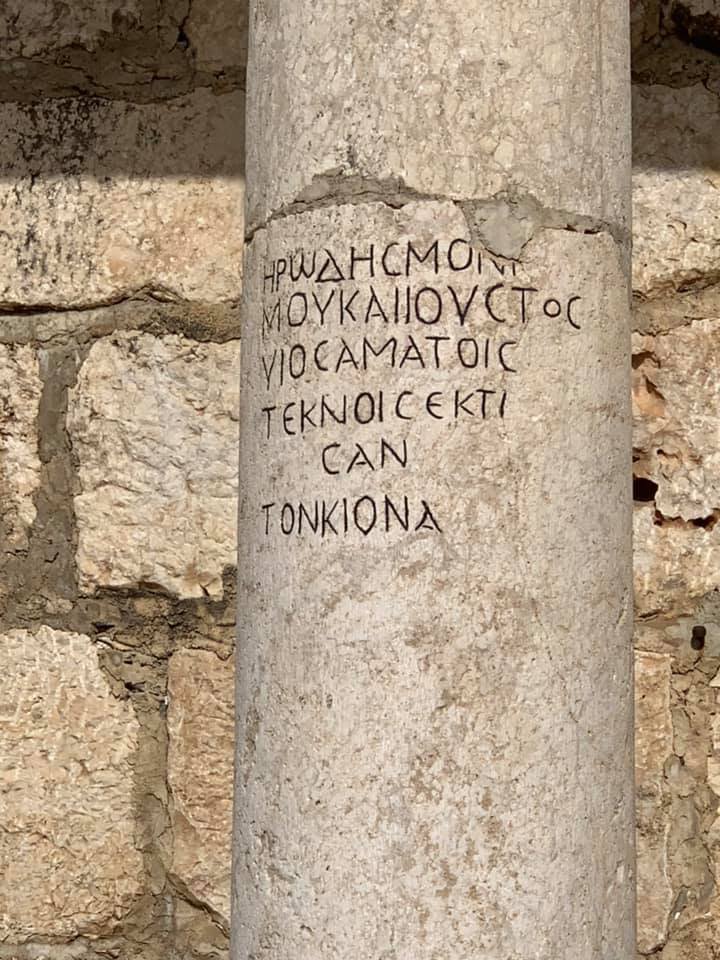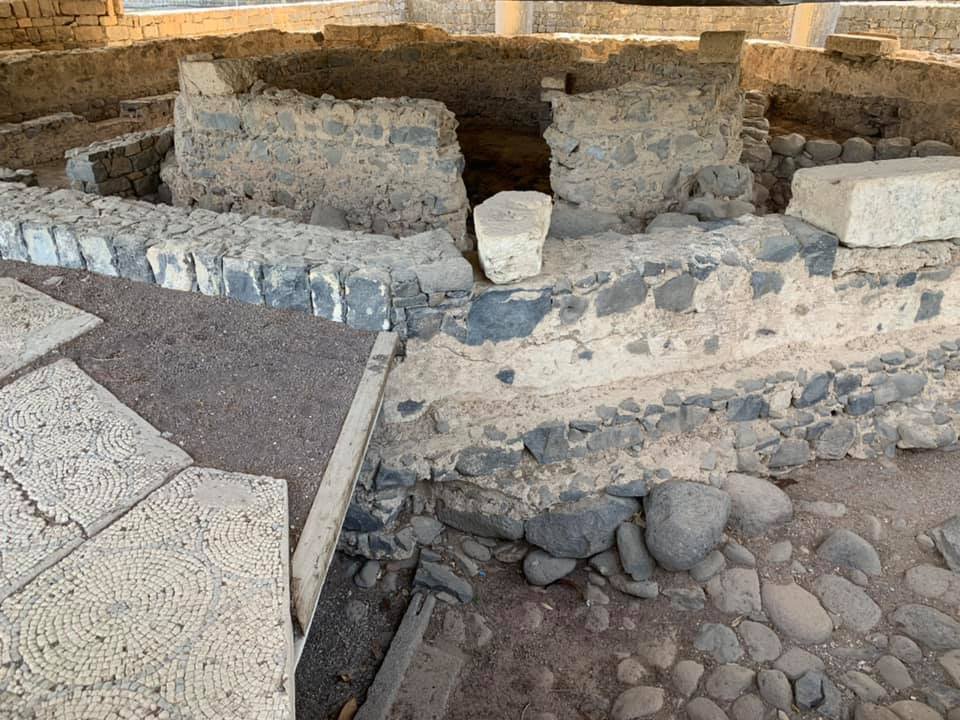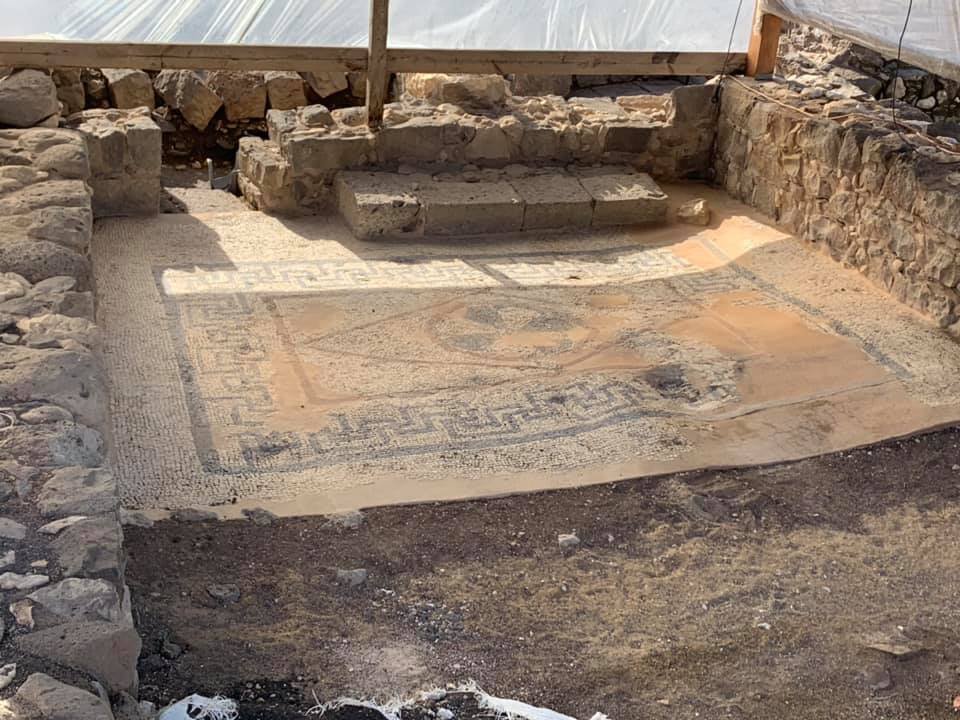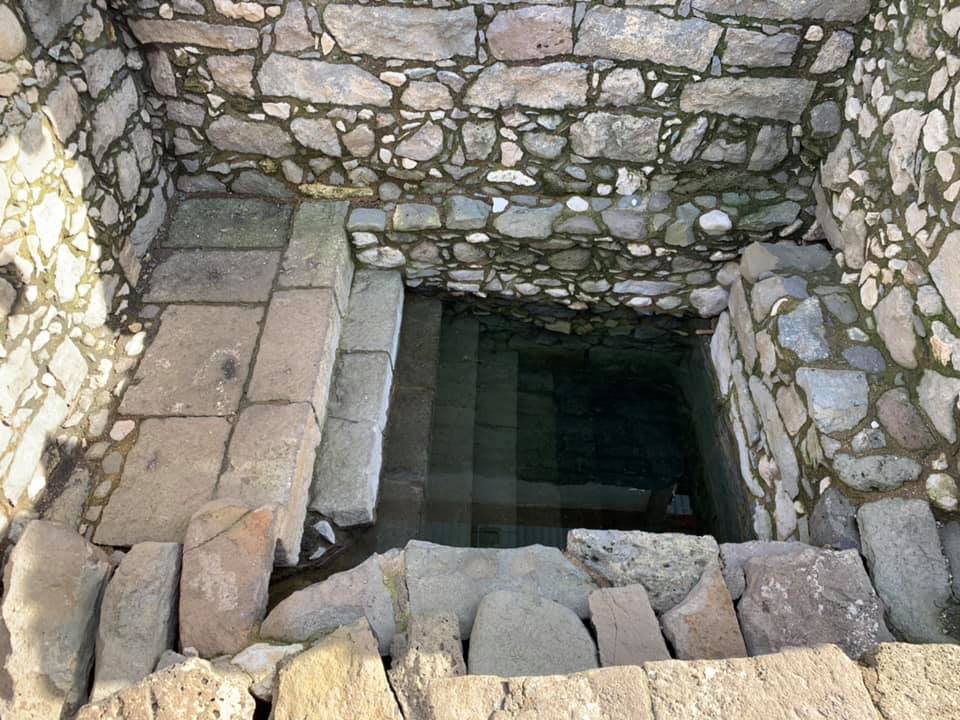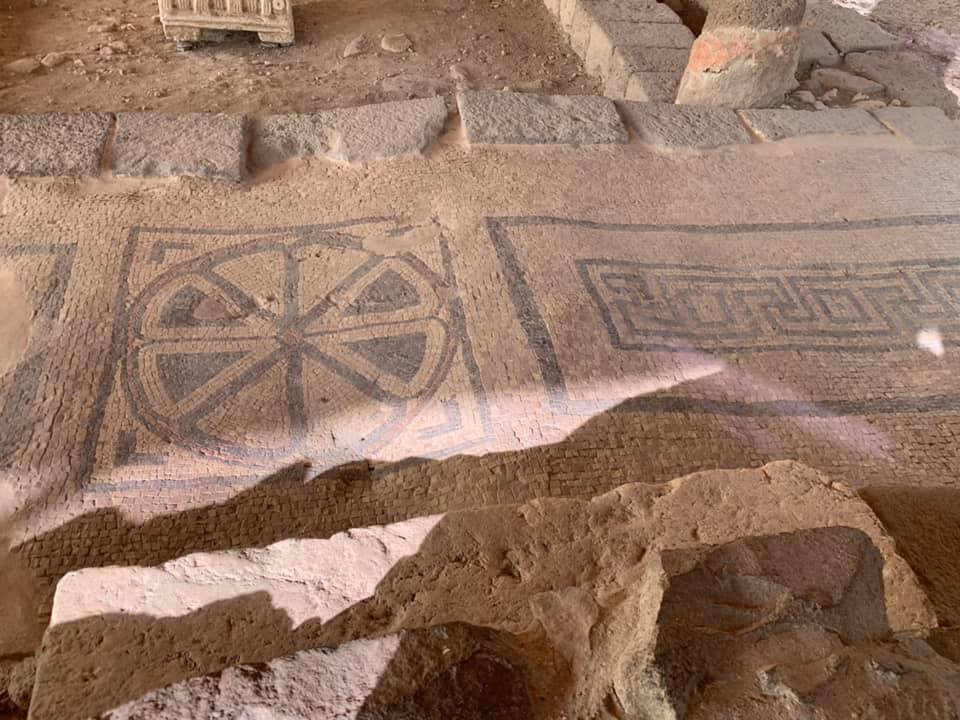 Ending the day with a boat ride on the Sea of Galilee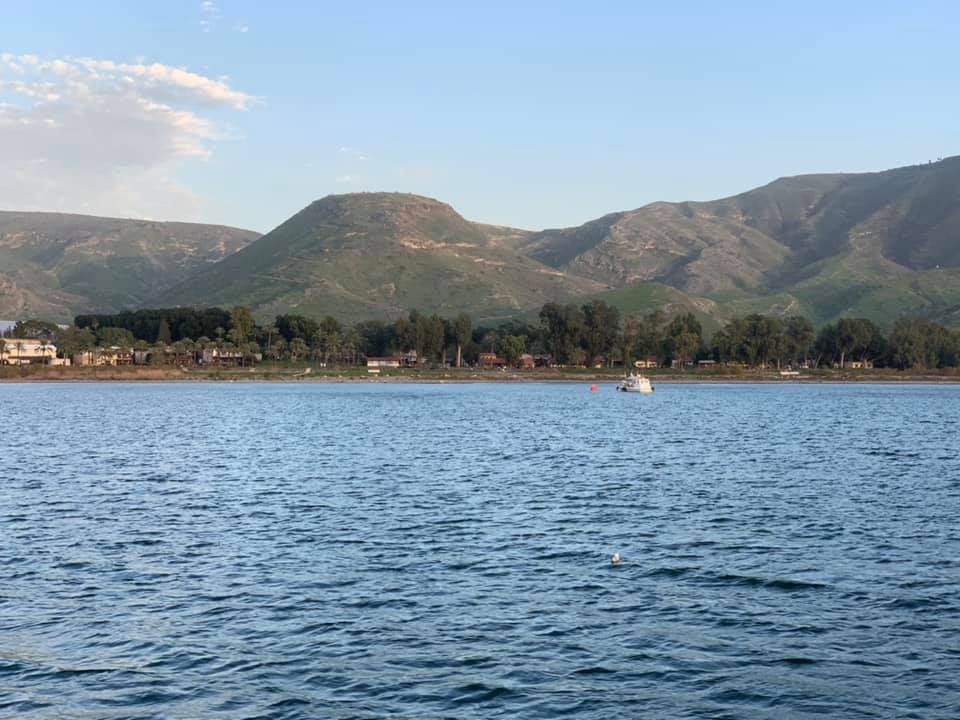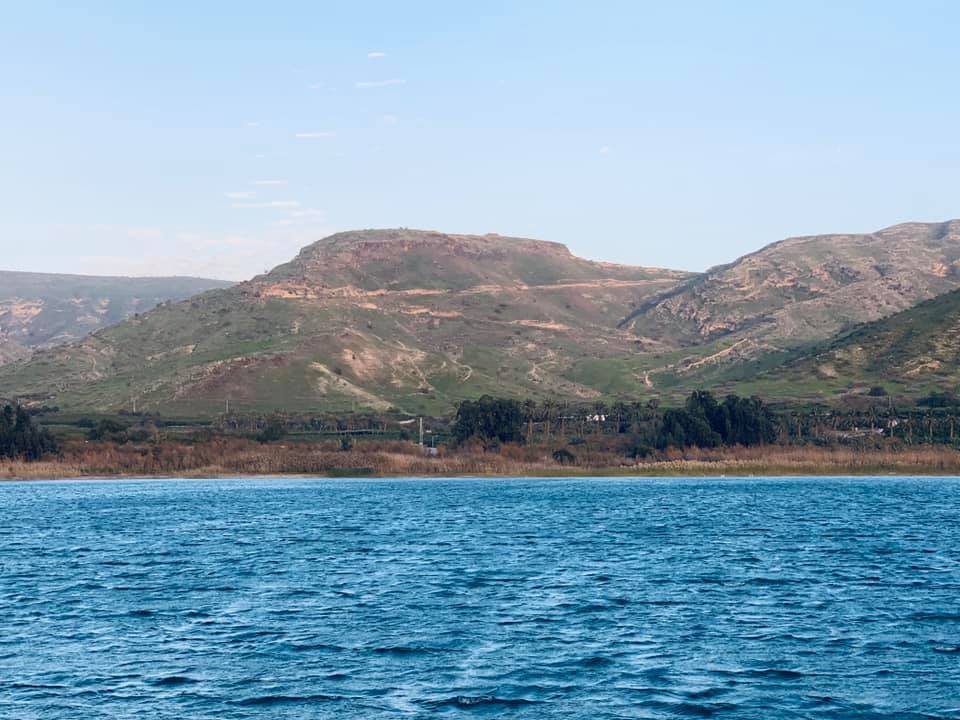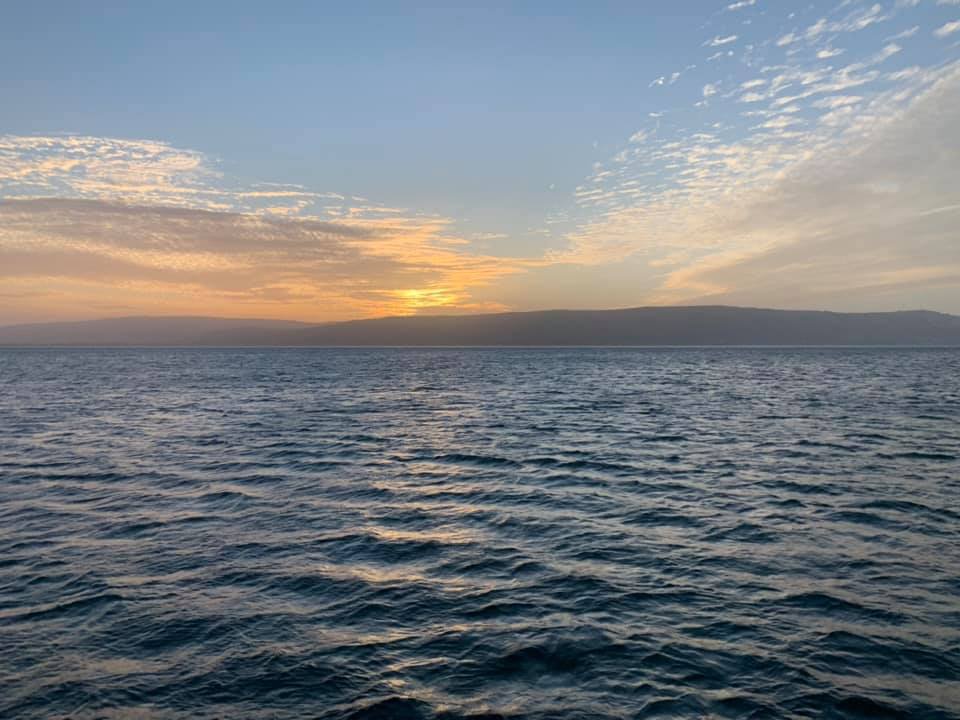 Sunday January 13, 2019
Today has been an amazing day. We are now checked into the hotel that will be our base for the remainder of the trip. It is a Catholic owned "pilgrimage center" in which no expense was spared. It is extremely opulent! The only down side is that there is only one room with 2 twin beds shoved together. Our last hotel in Ein Gev had two separate rooms so that I was able to sleep without any negative impact from my roommates snoring! This could prove to be a long 5 nights!
I did get a glimpse of the old city in the darkness and I am so excited to start exploring tomorrow. Our first stop of the day as we left the Galilee region was the city of Beit She'An or Beth Shan in the Bible. To say that it was stunning is to do it a disservice. The scope of the ruins was amazing and stretched out seemingly forever! This city also held remains from the Egyptian period of occupation, the Philistine occupation, the Israeli occupation, and the Greco-Roman time period. Up on the hillside that overlooked the Greco-Roman city ruins were a couple of interesting things. First, there were the remains of the Egyptian Governor's home. Next, as you stood in the watchtower, you could see Mt. Gilboa in the distance, this is where King Saul was wounded and fell on his sword, losing the battle to the Philistine army. (1 Samuel 31) As you looked the other direction into the valley, you could see the stream of Harad which begins in the surrounding mountains at the Spring of Harad. This is where Gideon instructed his men to drink from the water in order to thin the numbers of his army. (Judges 7) Back to the story of Saul, after his death in 1 Samuel 31, the Philistines dragged him to Beth Shan and hung his headless body to the wall of the city. The very ruins that we were standing on! Amazing!
As we drove to our next stop, we drove through the West Bank. The landscape changed drastically and turned into more of a harsh desert landscape with immense walls of rock that surrounded us. We stopped at Ein Gedi, the mountains and caves where David and his men hid from Saul. We hiked back into the mountains to a waterfall that was coming from a spring deep in the rocks. The views were incredible and you could picture David and his men sneaking over the rock formation and finding shelter in the many caves. It is so amazing to be walking these areas!
We stopped next at Qumran, one of the most significant sites in recent history. Here is where they found the Dead Sea Scrolls scattered among 11 caves. Prior to this discovery, the earliest manuscript of the Old Testament was the Aleppo Codex dated to the 10th century AD. In this discovery, we got documents that were 1000 years older than any that had previously been found! Every Old Testament book was found in part or whole with the exception of Esther. In the first century AD there was still much debate in the Jewish community as to the inclusion of Esther in the canon of the Old Testament because God is not mentioned. This disqualified it in the thinking of many religious scholars. This exclusion was evidenced in Qumran.
After a brief stop at the Dead Sea where it was much too cold to wade in, (although some chose to!) we turned towards Jerusalem and will spend the rest of our time in this vicinity. It was another great day. As wonderful as this has been, I definitely miss home! I miss my church, my kids, and most of all my lovely wife who has made it abundantly clear that I am to shave the beard prior to boarding the plane for Ohio! See you soon!
Photos
Beth Shan!!!! (Beit Shean) Hands down the most spectacular archaeological site in terms of scope and history that I've ever seen. This was a Greco-Roman city known as Scythopolis and the ruins were amazing. It sits underneath a hill with the ancient ruins of Beth Shan. There are Egyptian ruins from 16th century BC as well as the remains of the walls of a Philistine city that was conquered by King David. From the watchtower, visible in the distance, is Mount Gilboa where King Saul fell on his sword. His headless body was dragged by the Philistine army and hung on the wall (the ruins where we were standing!!!) at Beth Shan. 1 Samuel 31:1-10. On a side note, the weird tree up on the hill was the hanging tree for Judas used in Jesus Christ Superstar.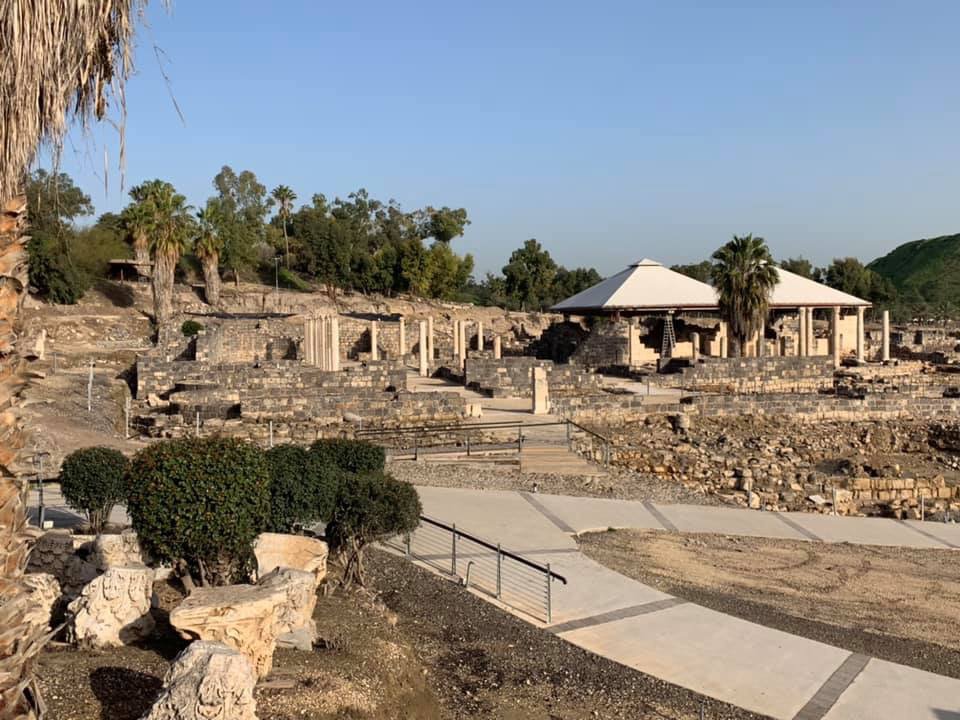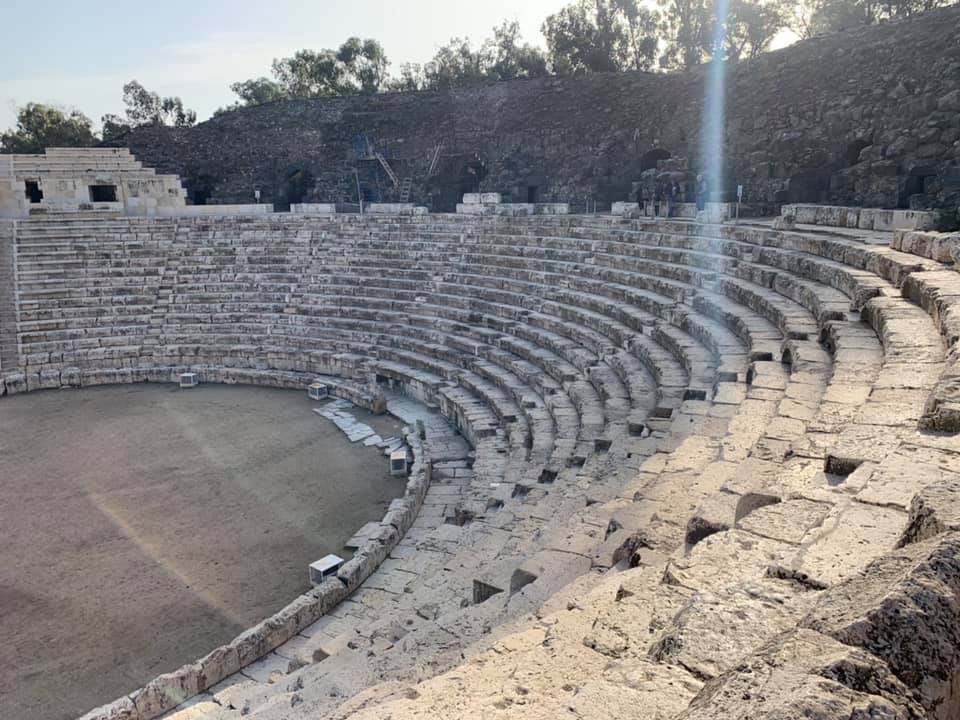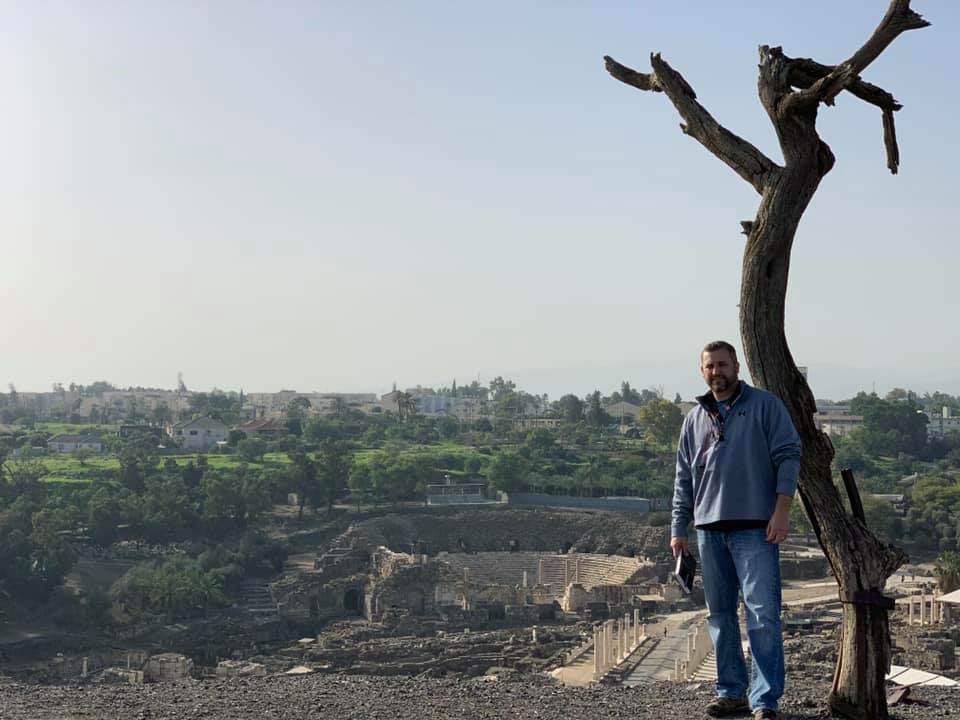 Ein Gedi. The landscape has changed dramatically as we've gone further south east. We're traveling along the coast of the Dea Sea and it is a desert landscape again with soaring cliffs and mountains. We hiked through Ein Gedi where David and his men hid in the hills and caves from Saul. Unreal views! This is more of what I pictured Israel looking like. The different landscapes are extreme! 1 Samuel 24:1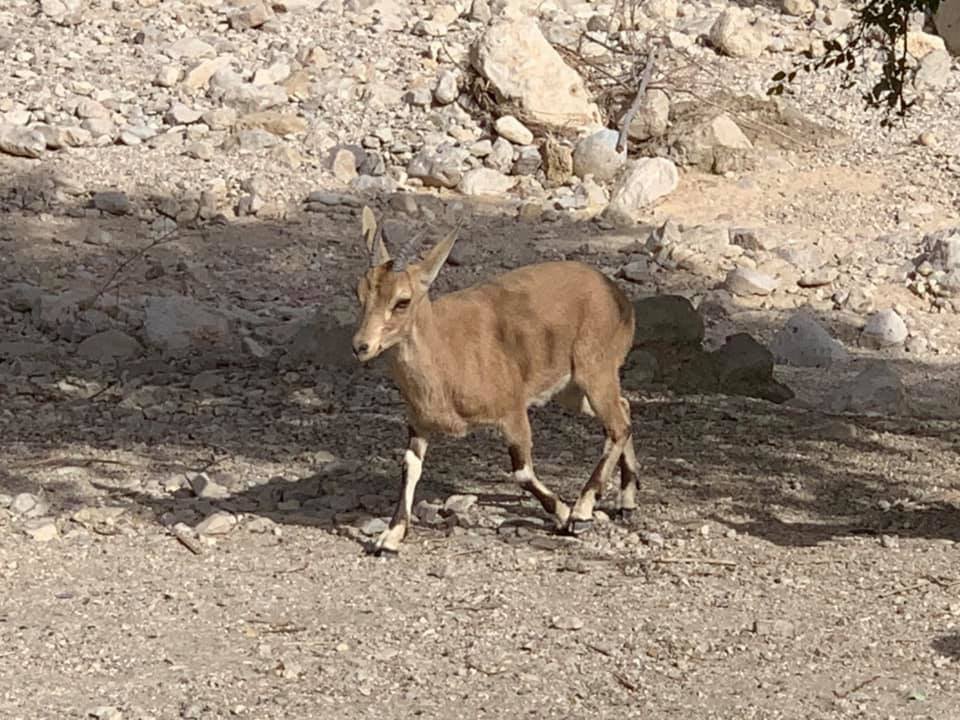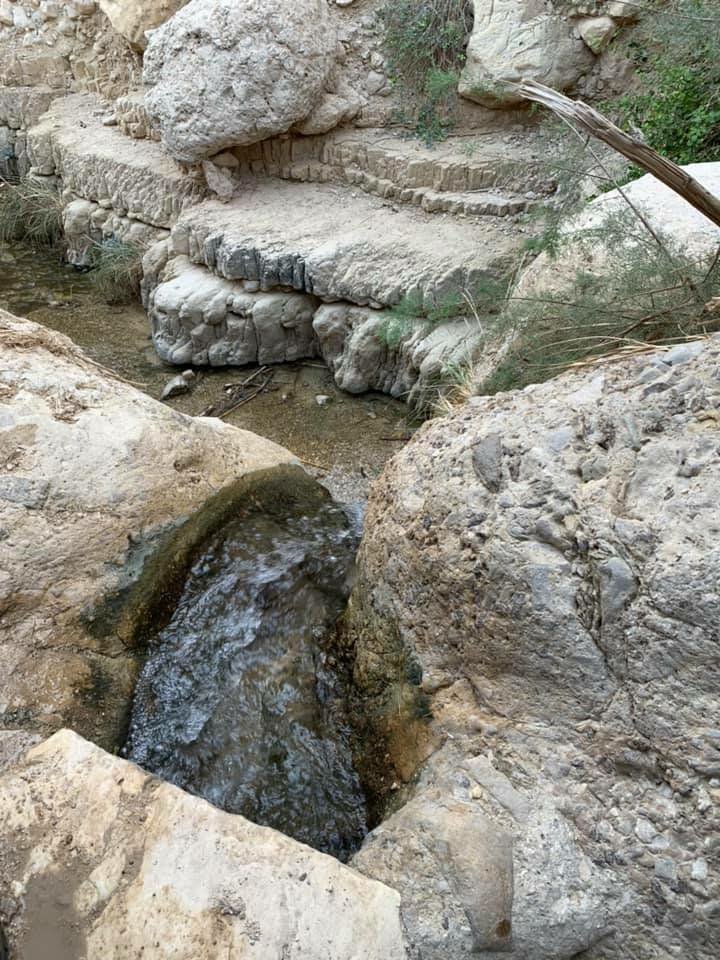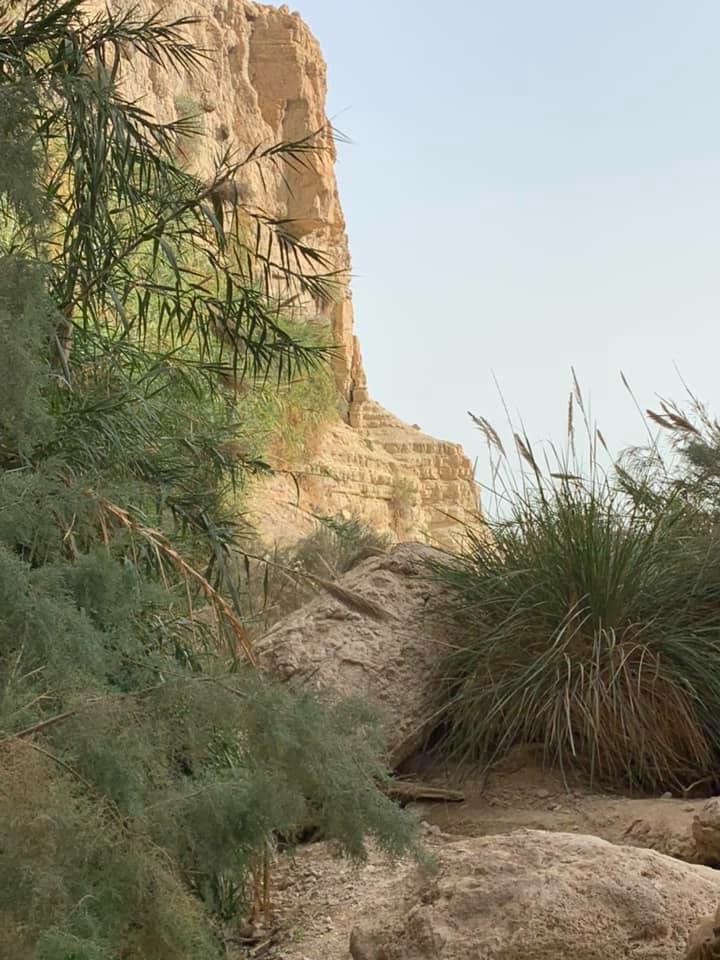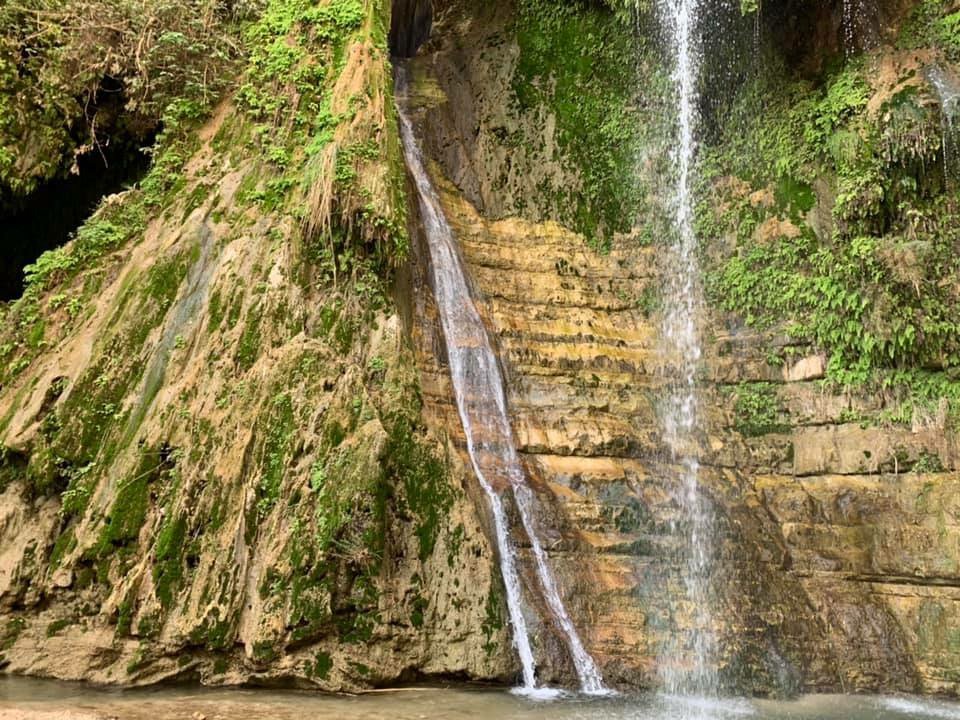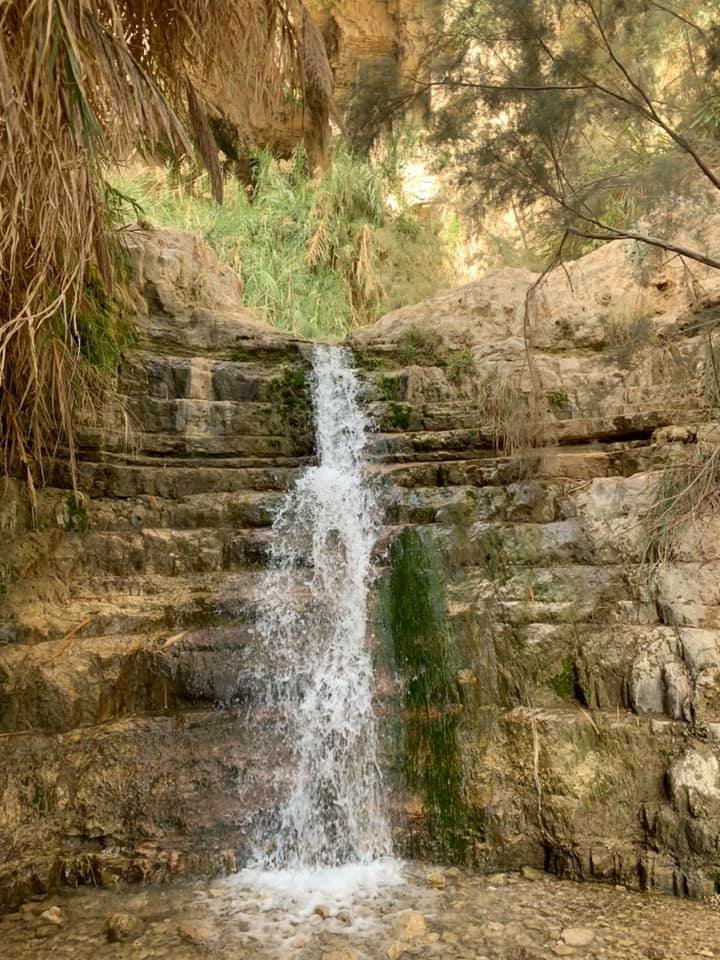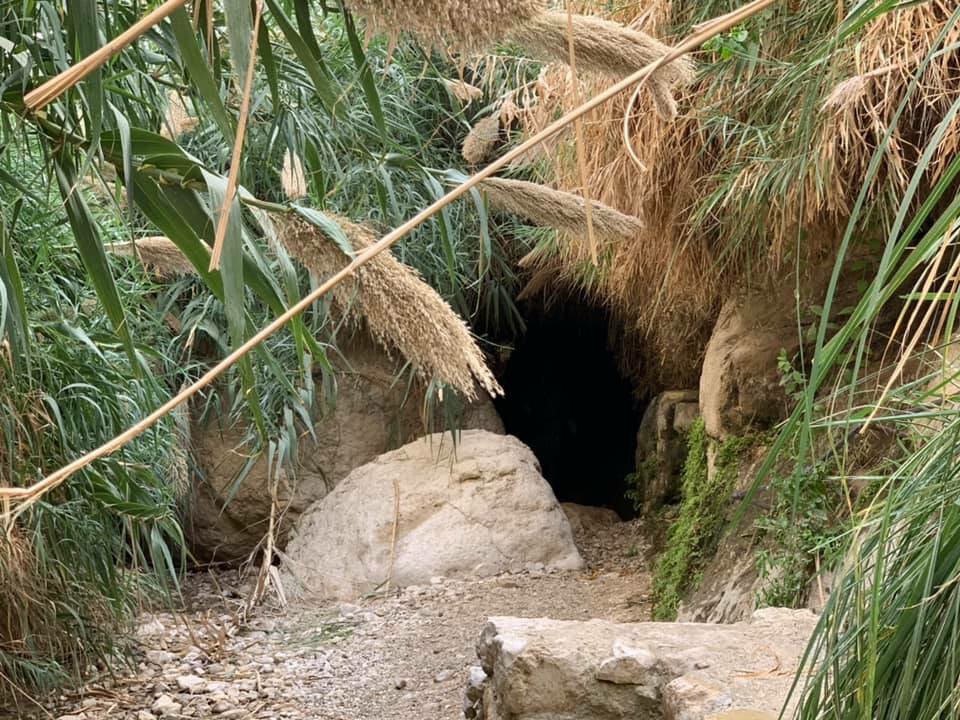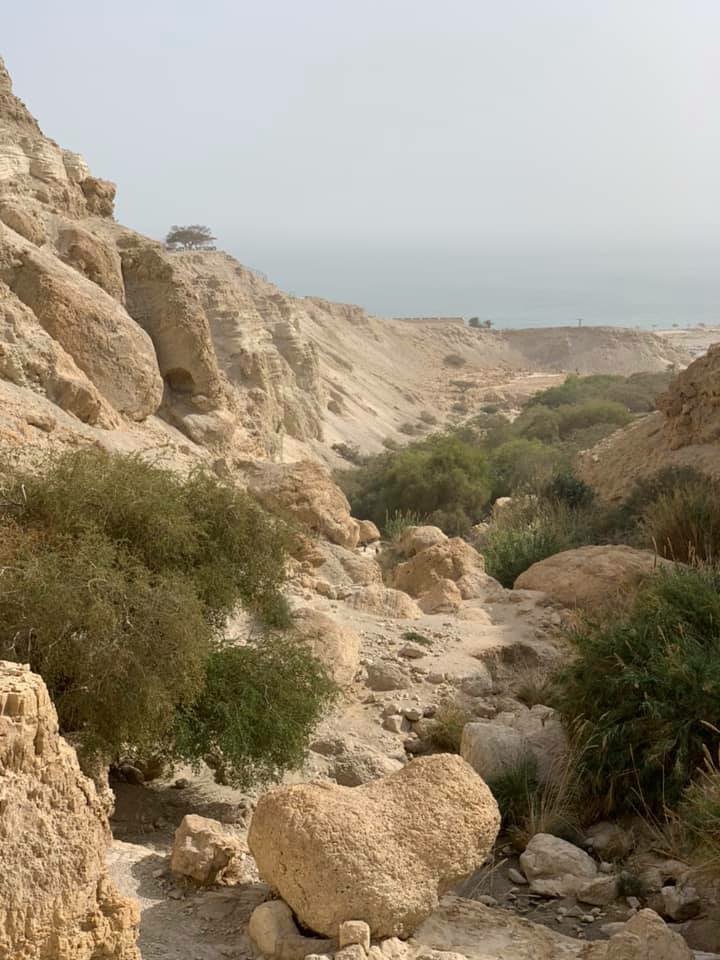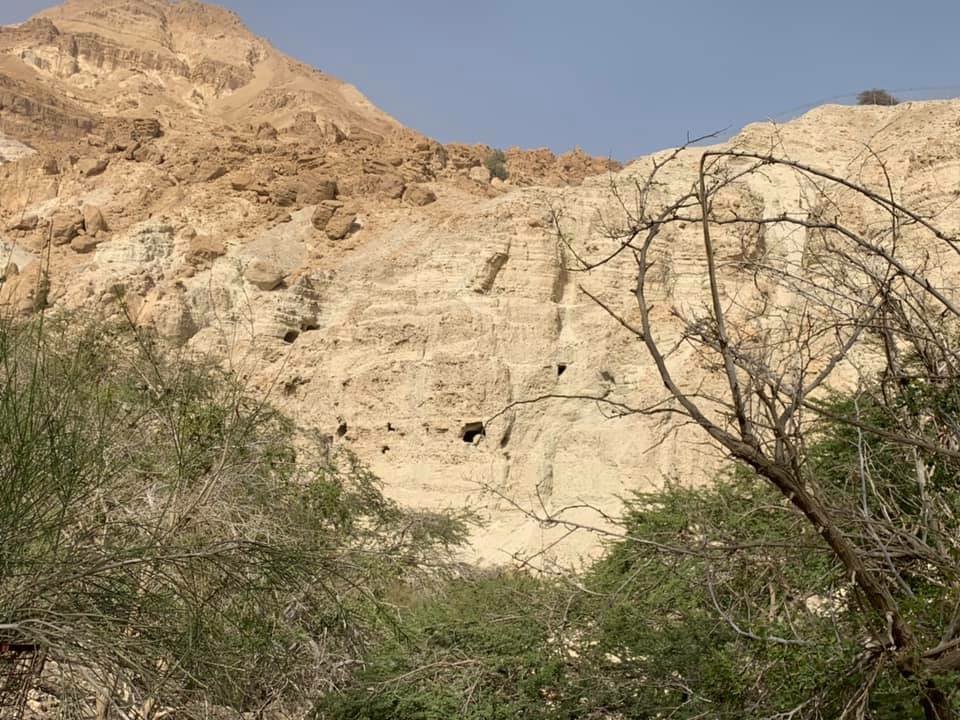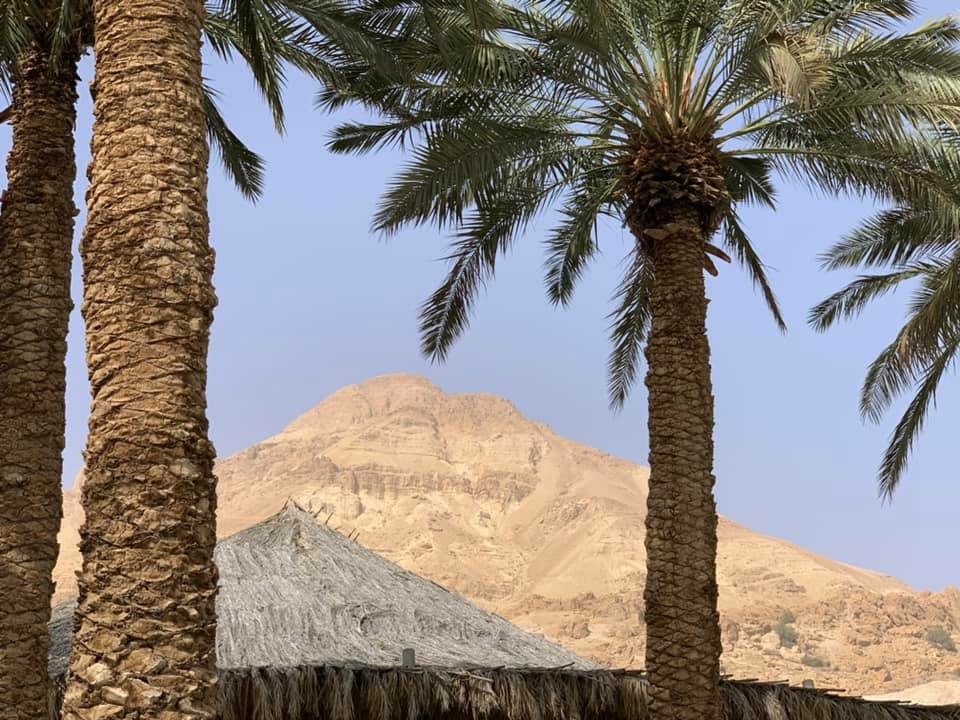 Qumran where the Dead Sea Scrolls were discovered in a series of 11 caves. Fascinating stuff.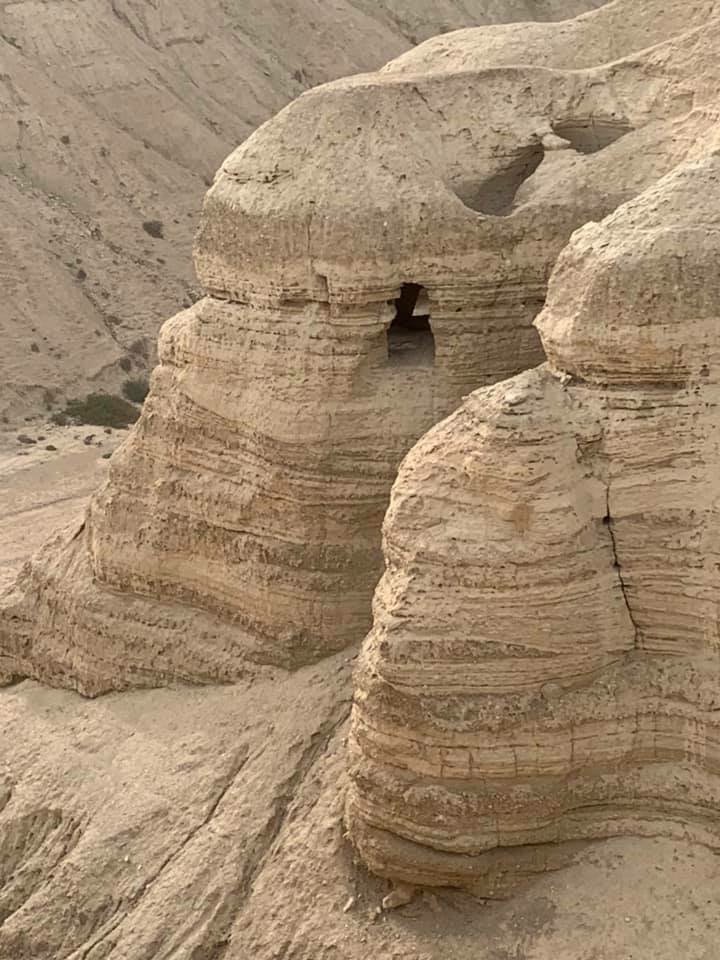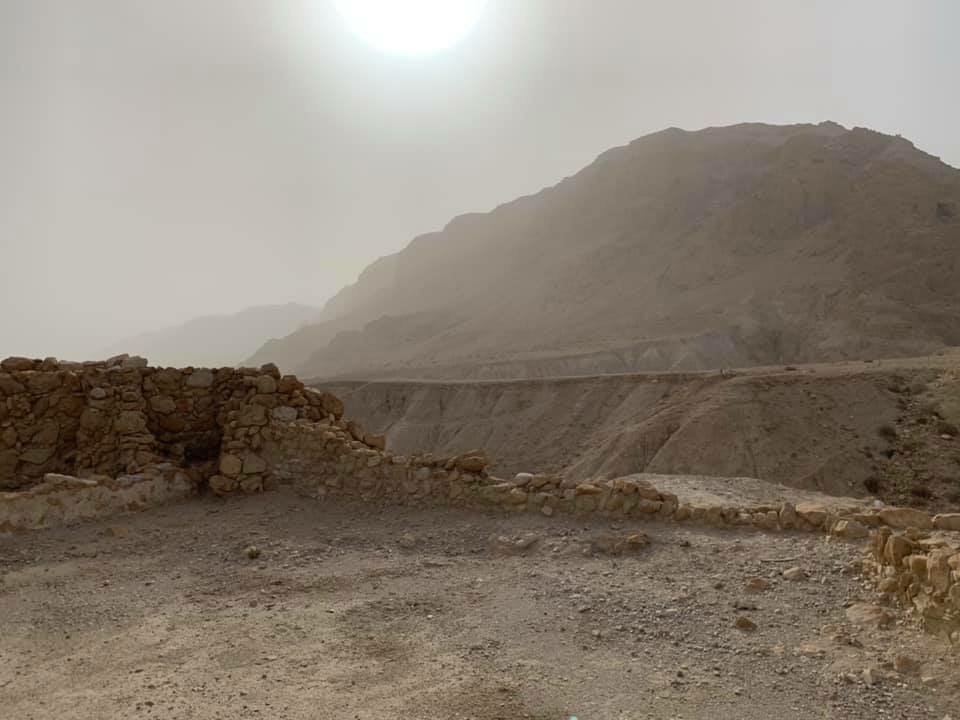 Monday January 14, 2019
My head is going to explode! What a day! I was going on about an hour of sleep but what we were seeing and experiencing was enough to keep me wide awake through out the day. I will try to capture the highlights for you but there is no way that I can do it justice. You will simply have to come yourself some day. I have loved traveling with Dr. Notley. He is a brilliant scholar and he gives insight that you would not have gotten from a regular tour guide. I've already shared how he has blown apart some of the "traditional" sites and today he provided more insight to make the stories come alive, so glad that I am on this trip with his class.
We began the day entering the old city through the Jaffa gate and going past a tower that would have provided security for the palace of Herod. This is where Pilate would later have lived and where Jesus would have stood before him. Notley pointed out that the traditional Via de la Rosa starts in the wrong spot, it would have begin in this section as Jesus is convicted and led away to die. From there we were able to view some remains of the gates that King Hezekiah built to fortify the city against the Assyrians and later the Babylonians. (2 Chronicles 32) He also cut off the water and rerouted it through tunnels into the city to keep the invading armies from having access to the water while keeping it available for his people. We were able to see those tunnels as well!
We then entered a museum which housed the basement level remains of a huge 1st century mansion. There are several clues, this is where Notley came in very handy, that reveal that this was likely the home of priests. The opulence and wealth found there make it likely that it was the home of Caiphas the high priest. He gave a fascinating presentation on the ways that the Sadducee priests were robbing the people and padding their own pockets. Jesus called them on this and was a threat to this. That is one of the major reasons that they looked for a way to kill him. While he wouldn't come out an say with certainty that this was the home of Caiaphas, he said it was a pretty safe bet. (Matthew 26:3-5) We were also able to get a good feel for the layout of the old city and the proximity of things. For example, the walk from Pilate to Antipas, a dwelling in the center of the city, was no more than 5 minutes. Everything was very close together.
Next we moved on to the Western wall and visited the wailing wall. We then went up the stairs of ascent to the entrance of the old temple which was destroyed by Rome in the 1st century during the Jewish revolt. A couple of cool things here. First, the top of the stairs is where the teachers would gather to teach, if Jesus taught at the temple, this is where it would have been. Also, there is ample evidence that this is where Peter preached passionately at Pentecost in response to the crowds of pilgrims who wondered why they could all hear the apostles speaking in their own tongues. Finally, the threshold to the old temple triple gated entrance is formed from bedrock. This doesn't and will not change. Dr. Notley explained that this is the one place in all of Israel where you can definitively say that you are standing on the same rock, same spot, as Jesus. Jesus would have entered the temple by walking across these very same, unchanged stones. That is pretty amazing and it will take a while to process.
We then moved on to David's city, the original site of Hebrew Jerusalem. We saw Hezekiah's water tunnel, we squeezed through the shaft that David used to attack Jerusalem and capture it as the capital of his united Kingdom. (2 Samuel 5) Walking (squeezing really) through this channel was one of the biggest thrills of my life! As we walked underground, we also came to the place, the Spring of Gehon, where Solomon was crowned as King! (1 Kings 1:33-34) I know that I'm using a lot of exclamation points today but, in reality, I am probably not using enough! When we came back out from the tunnels, we passed a seemingly unremarkable part of the broken down wall and almost as an afterthought, Notley mentioned that the top part was a part of Nehemiah's wall!! That was awesome! I've preached on Nehemiah several times and it was absolutely astounding to actually see even a small portion of that wall. We continued on to the Pool of Siloam, this is where Jesus instructed the blind man to wash himself to be healed in John 9.
The rest of the day was spent wandering around a little. We are off to Bethlehem tomorrow and will have a full day on Thursday to continue to explore the old city on our own. There is going to be a lot to process when I get home!
Good night!
Photos
Jerusalem. Tour of an ancient mansion that is a safe bet to be the home of Caiphas the high priest. The Western Wall and a view of the Mt of Olives.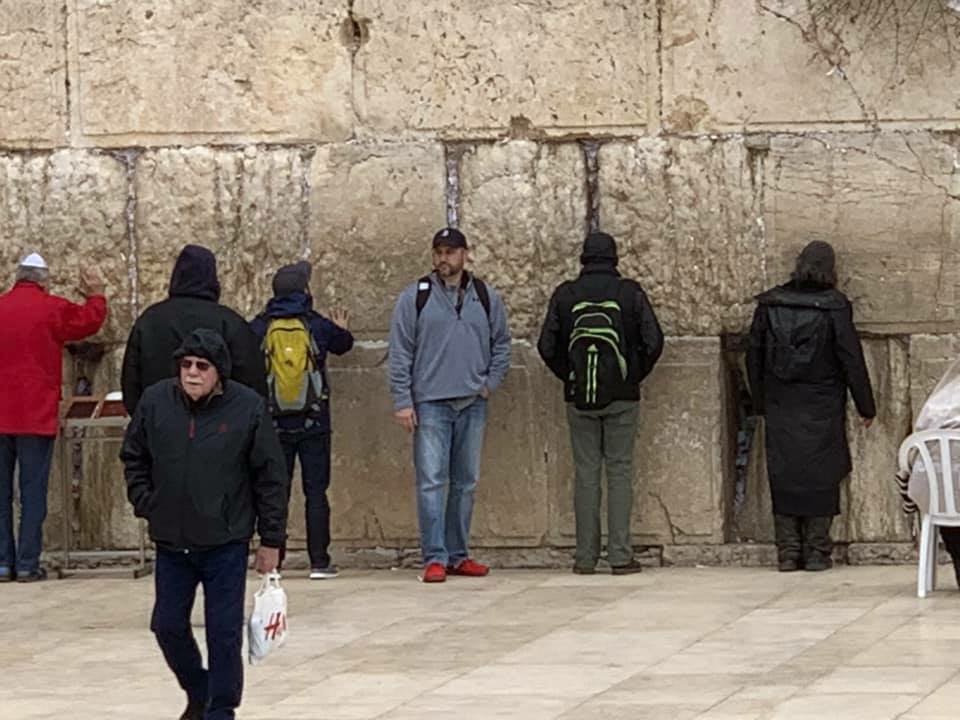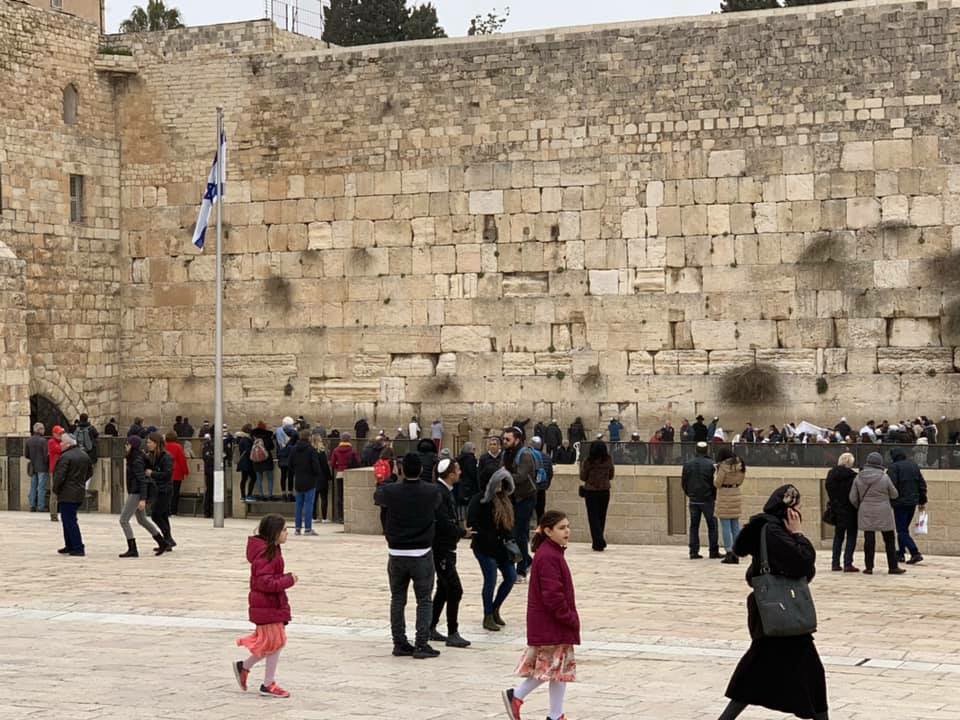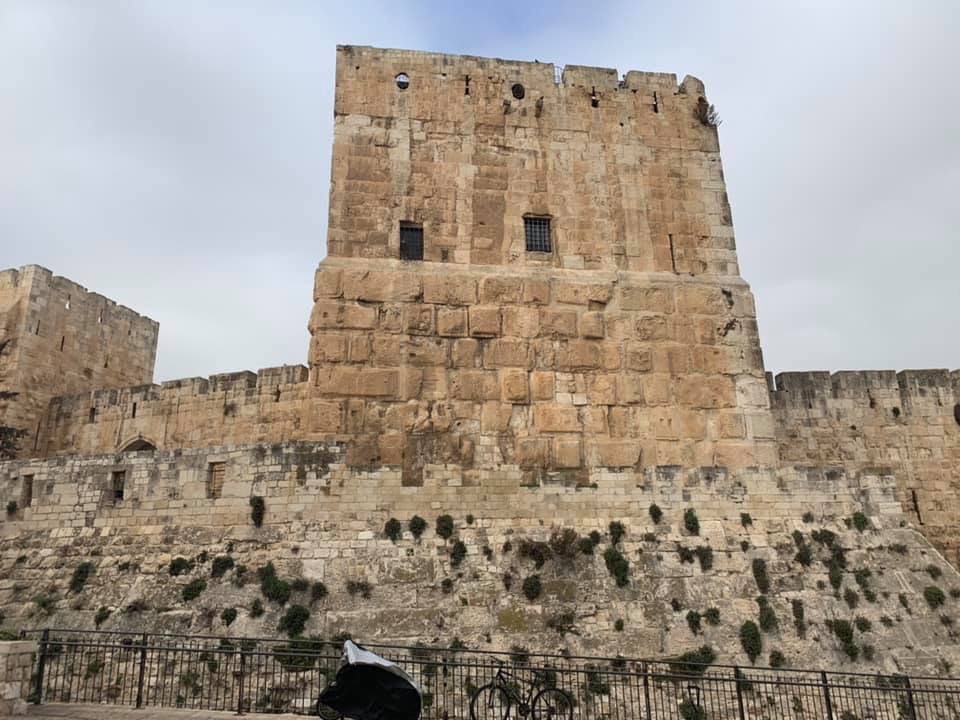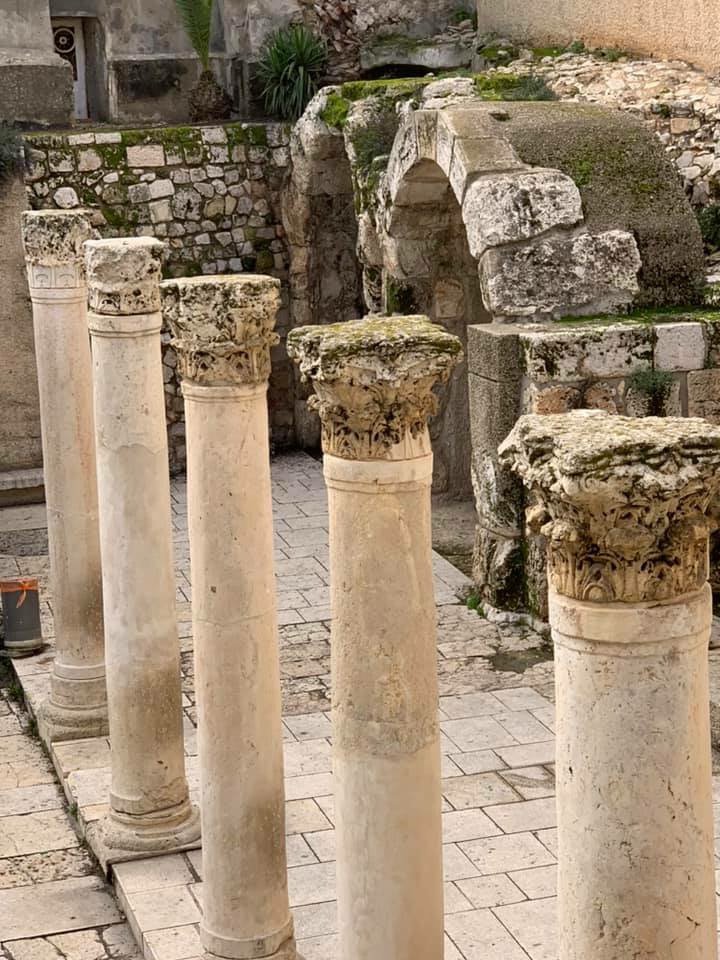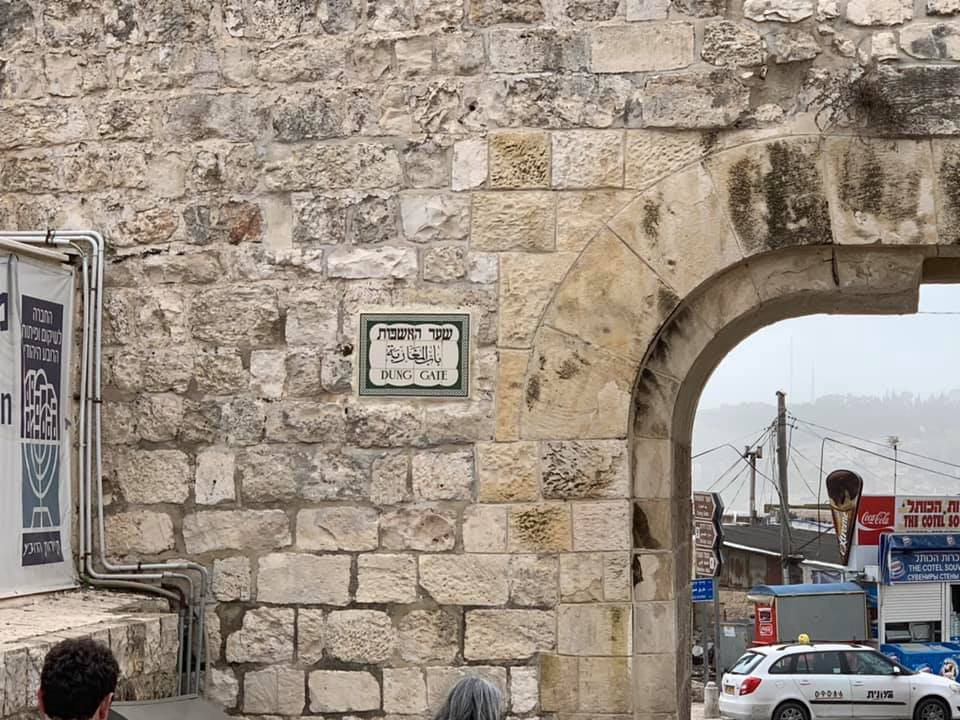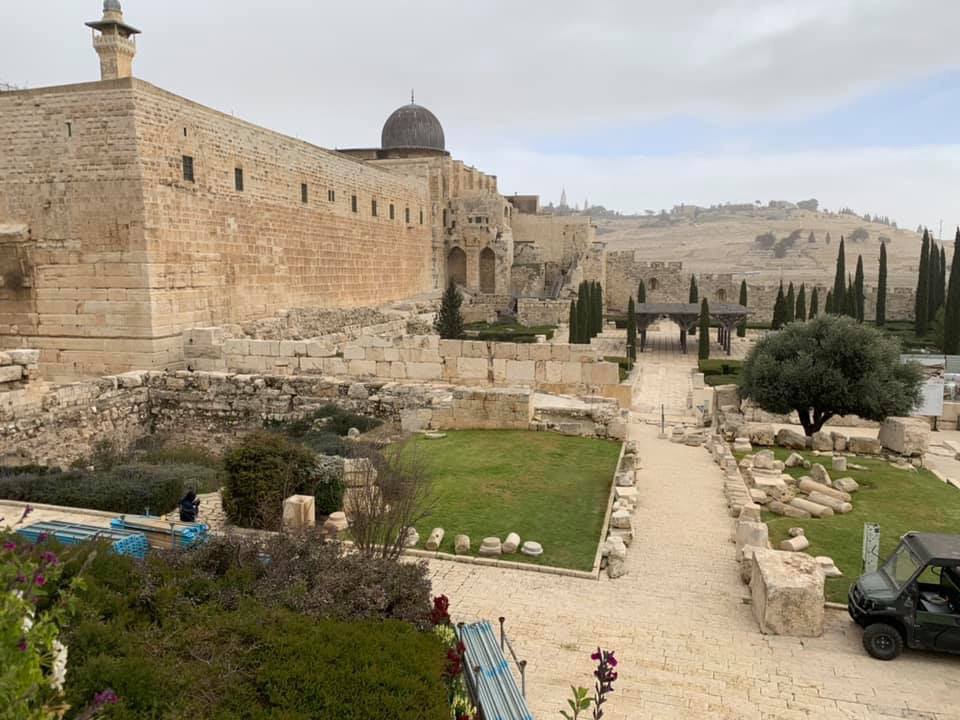 Tuesday January 15, 2019
Today was a jam packed day that stretched from 7:30 AM when we left the hotel until almost 7 PM when I finally got back. This trip is not for the faint of heart! There is a lot of walking and it is all up and down some pretty impressive hills and mountains. Today was no exception! We started the day at Herodian, this is the desert palace of King Herod the Great. Herod wanted a palace that could be seen from Jerusalem so he brought in dirt and doubled the size of the mountain he was building on. We walked through the remains of the palace and out onto the side of the hill where the remains of the memorial to Herod stood. This is the place where Herod was buried and his sarcophagus would have been inside of this stone memorial. The tomb was looted centuries ago. Like everywhere else that we've been, you could see the lengths that people went to in order to secure a water source. This palace was in a desert region with no natural water so Herod dug tunnels from the far away Solomon Springs to bring water in. We were able to walk through the tunnels and see the ingenuity of engineering. The views from the palace mount were stunning and you could make out Jerusalem and the Mount of Olives in the distance. This mount also overlooked Bethlehem, our next stop.
Bethlehem is now in Palestine and we had to pass through a check point to leave Israel for a bit. The city is prominent in Scripture even before the birth of Jesus. It is known as the city of David. Bethlehem means House of Bread, its name came from the vast wheat fields that used to dot the landscape. This city is the backdrop for the the story of Ruth and Boaz in which wheat harvesting plays a central role. Boaz is the father of Obed. Obed is the father of Jesse. Jesse is the father of King David. We went to the Church that housed the site of the stable where Jesus was born. Tradition has held that this is the location since almost the first century and from a historic geographic perspective, the site is entirely consistent with the Biblical account. However, the church is built directly on top of the site so it is a little hard to picture what it actually looked like. The stable is actually in a cave that descends down a few steps. This would have been where they kept the small animals such as goats and sheep. They have transformed it into a shrine and so it was a little bit of a disappointment to me because it is such a stretch to see what it was through what it has been made today. Despite that, it is still a thrill to know that you are standing in the vicinity of where God become flesh. There are a series of catacombs under the church that were originally Jewish living quarters. These would have been connected to the stable. Our Christmas nativity scenes need an update!
I nearly caused an international incident during lunch. We have a young man who is Korean on the trip. His name is Joo. I needed to get his attention inside the restaurant and said in a very loud voice, "Hey Joo!" The necks of a couple of Orthodox Jews almost snapped as they whipped around to glare at me!! I had no idea what to do or say next! Do you explain? Do you move on? I chose to pretend nothing happened and thankfully they went back to their Shwarmas! After lunch we went to the mount of Olives and visited the area where Jesus overlooked the city and wept in Luke 19:41-44. What an amazing vantage point, the entirety of the city is laid out before you. You could see it all! We continued on foot down the hill to the Garden of Gethsemane. It was extremely hard to picture this as a peaceful area as the cars and trucks whipped by just a short distance away but you could picture Jesus kneeling among the rocks and gnarled trees and He utters those words, "not my will but yours be done." I was surprised how close this was to the city walls. In fact, I've been shocked at how close everything really is during the last week. The Mount of Olive overlook is extremely close to the Garden which is close to the walls which is close to the traditional site of Golgotha and the tomb of Christ. This is where we walked next.
We made a quick stop at the excavation of the pool of Bethesda. This is one of my favorite stories from John chapter 5 where Jesus heals the lame man who cannot make it into the pool in time to be healed. The ruins were extensive and impressive. Then we arrived at the Church of the Holy Sepulcher. There was a service going on so our access was limited but we had a chance to explore a little bit. We saw the rocks, through a window on the floor, which are believed to be the remains of Golgotha where Christ was crucified. Again, like the stable site, the church is build right over the top of it so it is impossible to picture what was. The line for the tomb was incredibly long and our professor said it was the same kind of experience as the others, you stare at a spot that does not look like it originally did even with the best of imagination so we skipped that part. There were people worshipping the objects, kissing the stones, praying over items that have no legitimate tie to the story of Jesus. My mind kept wondering what Jesus thought about all that was going on. We have a free day on Thursday so I may come back. Again, I was shocked at how close the tomb was to the place of crucifixion. They could both be covered by the same church! When asked if he believed that this was the actual site, our professor said that everything fit from a geography and historical perspective and that the tradition goes back to nearly the time of Christ so he had no dispute with the site. I came here thinking that it would be the Bethlehem and Jerusalem sites that would stir the most emotions, the most awe and wonder but I have found myself more moved and fascinated by the Old Testament sites we've seen. Maybe because they have not been enshrined and turned into something resembling a circus!
So, another day is gone and only one real day of structured touring is left. Tomorrow there is a snow storm in the forecast, just to make prepare us for what awaits at home! It has flown by and I know that I will be processing all of this for a long time to come. I had another sleepless night thanks to the marvelous serenade of my roommates snores! I came close to sleeping on the floor in our tiny bathroom! Tomorrow night there is a room available in the hotel that I am hoping to secure so that I can enjoy one good night's sleep before the journey home. I am heading off to bed and looking forward to being home soon. Good night!
Photos
Much of this trip has been about blowing up my mental pictures and preconceptions. Just visited Bethlehem and the traditional site of the birth of Christ. This spot has been consistent since the 1st century and has never really been challenged. There is a church built directly over the caves that would have served as Jewish residences at the time of Christ. Those caves are now a catacombs. The site of the stable is in a cave! If this is true, which scholars say is entirely consistent with life at the time, our picture of the manger scene with camels and other large animals is way off!! There would have been sheep and goats, small animals. Even if this is not the actual spot, it's pretty cool to be in Bethlehem and in extremely close proximity of the events in Luke.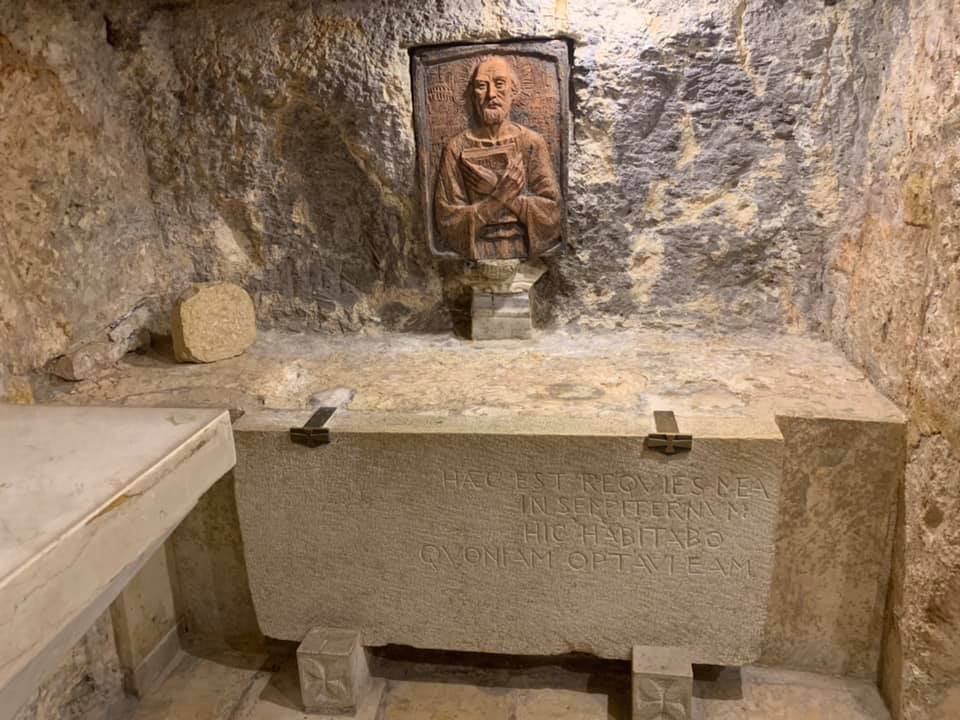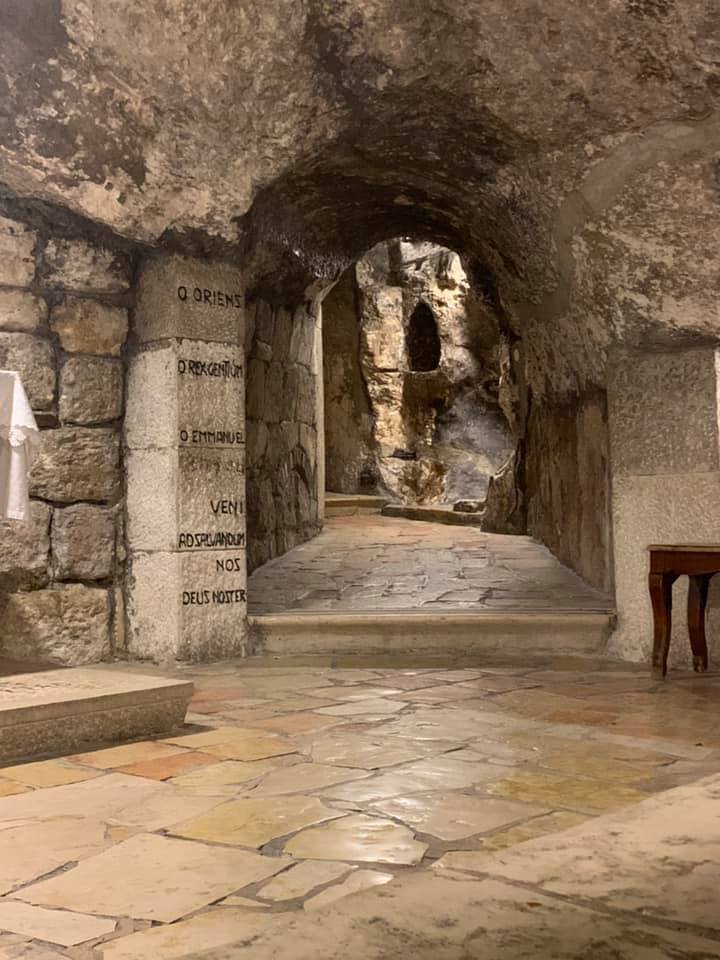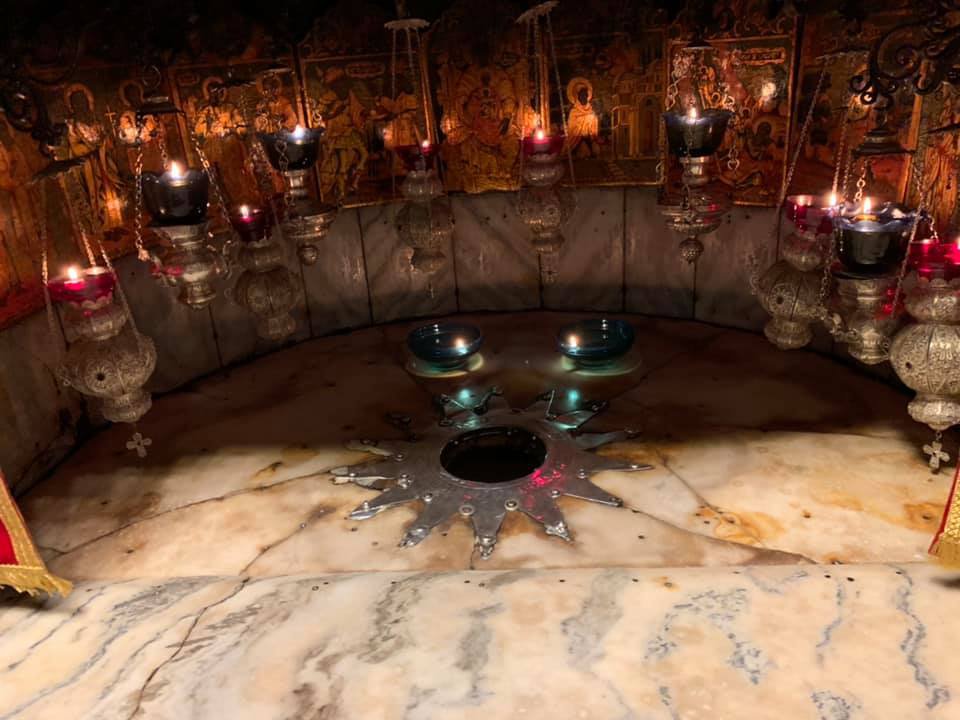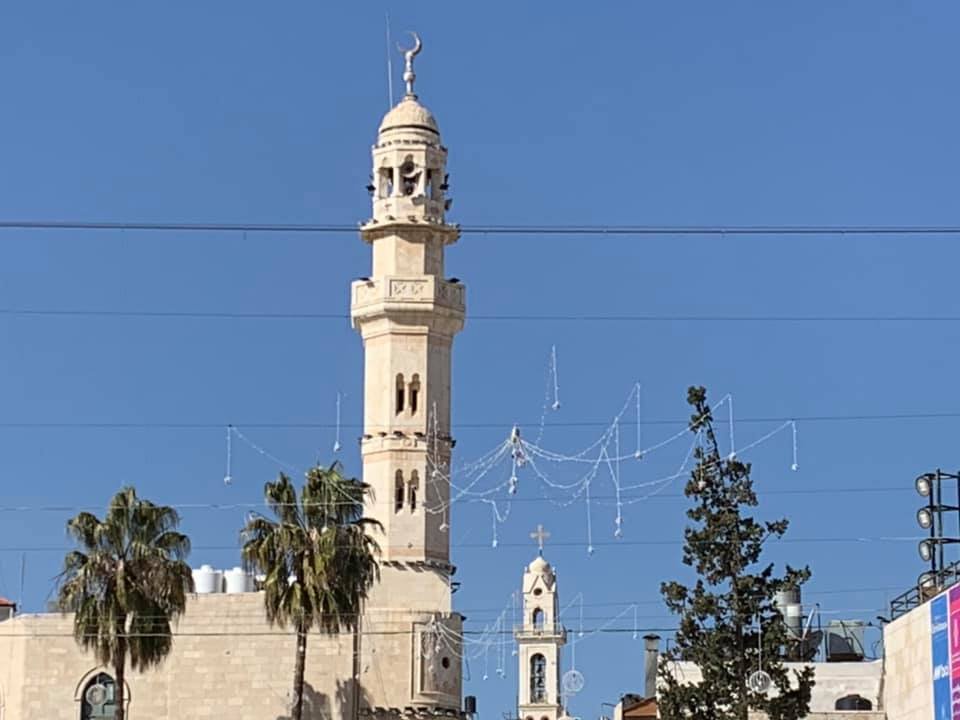 Started the day with a visit Herod's desert palace. He had dirt brought in to double the size of the mountain so that he could be seen from Jerusalem! This is also where he was buried.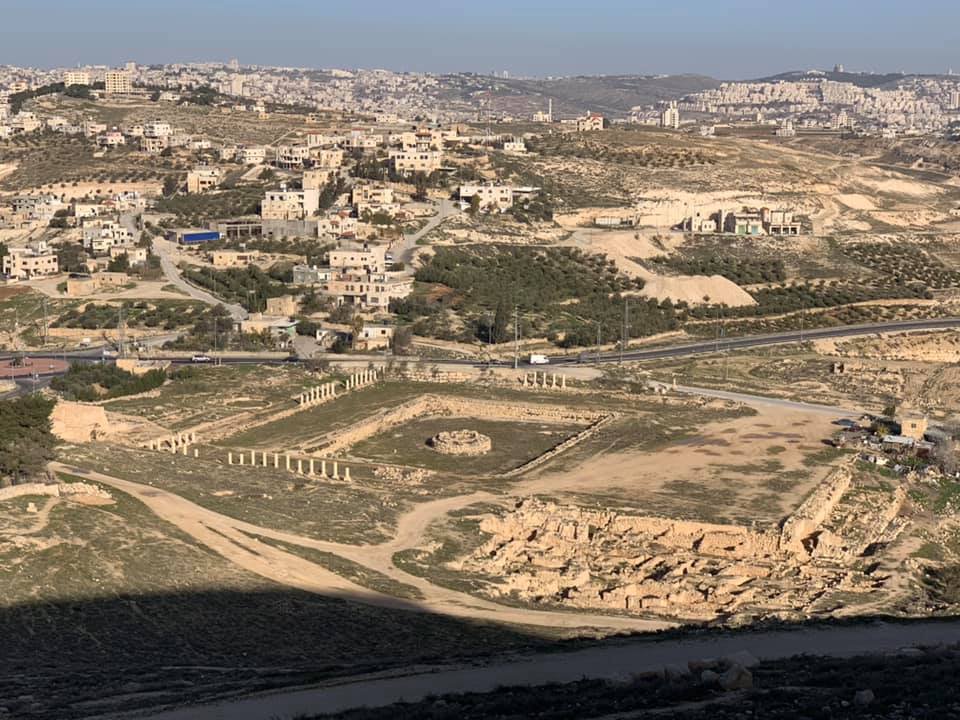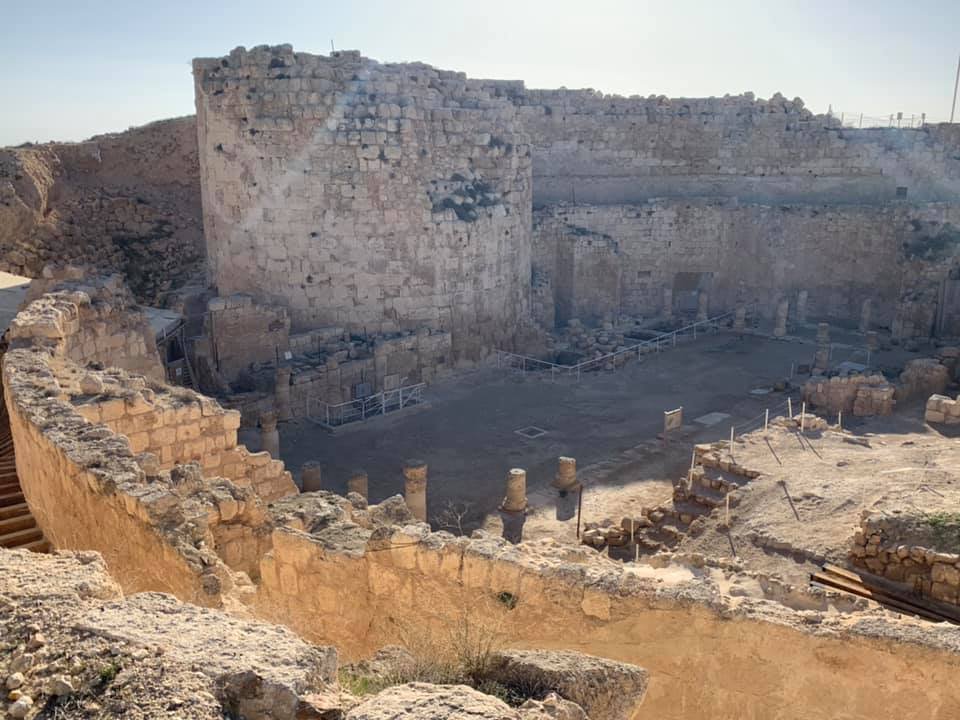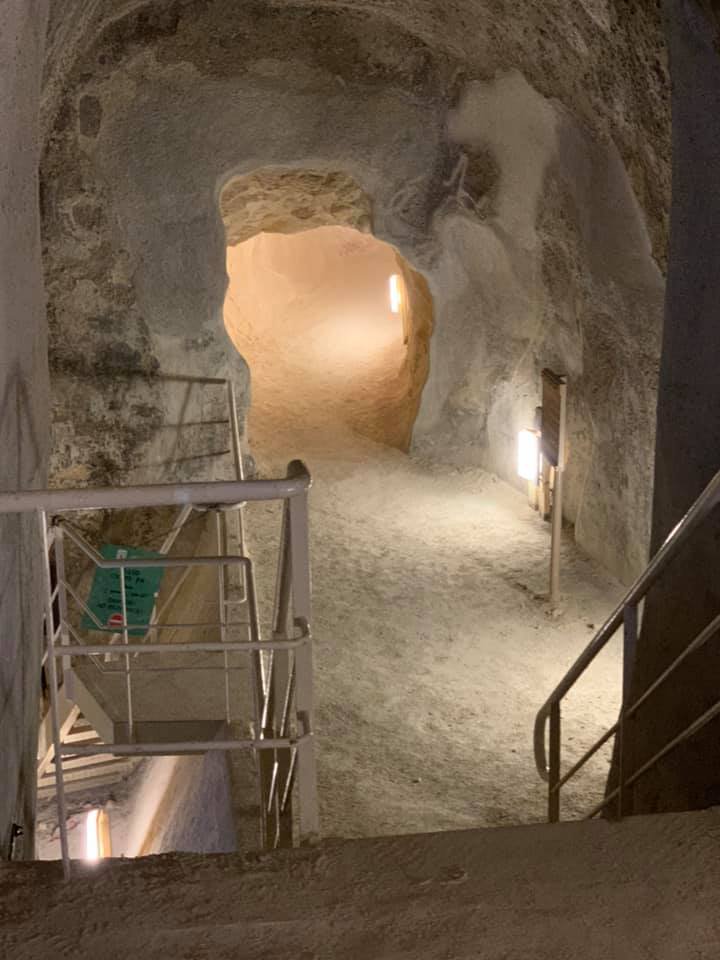 The Mount of Olives where Jesus wept over the city. What a spectacular view. The Garden of Gethsemane, the Pool of Bethesda from John 5, and the Church of the Holy Sepulcher which is the traditional site of both the death and resurrection of Christ. I'm shocked with how close it all is. My mind pictures things much more spread out.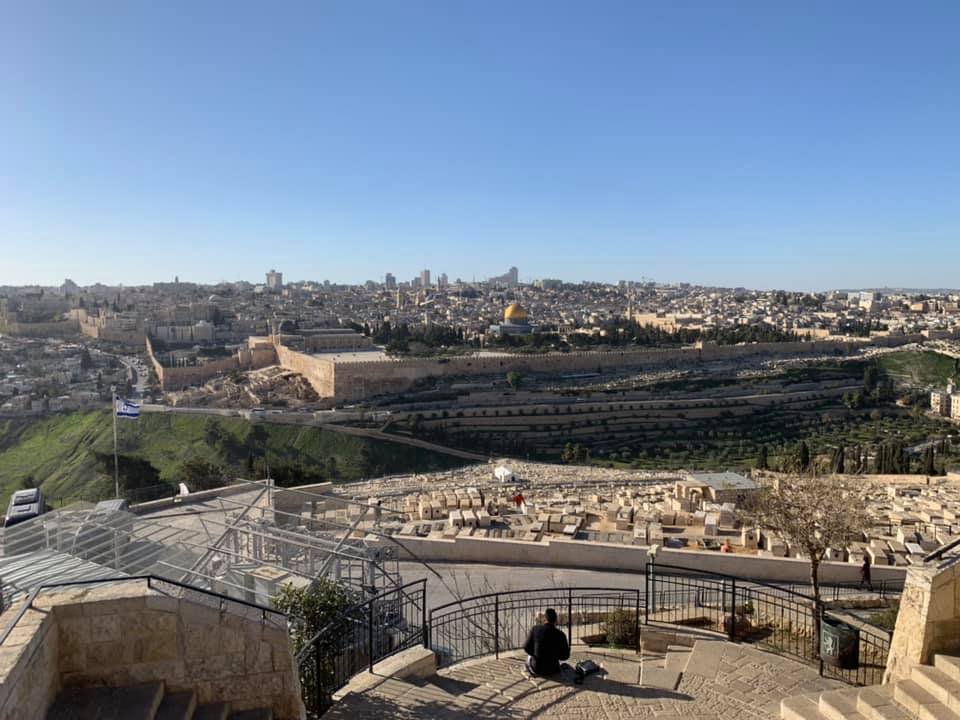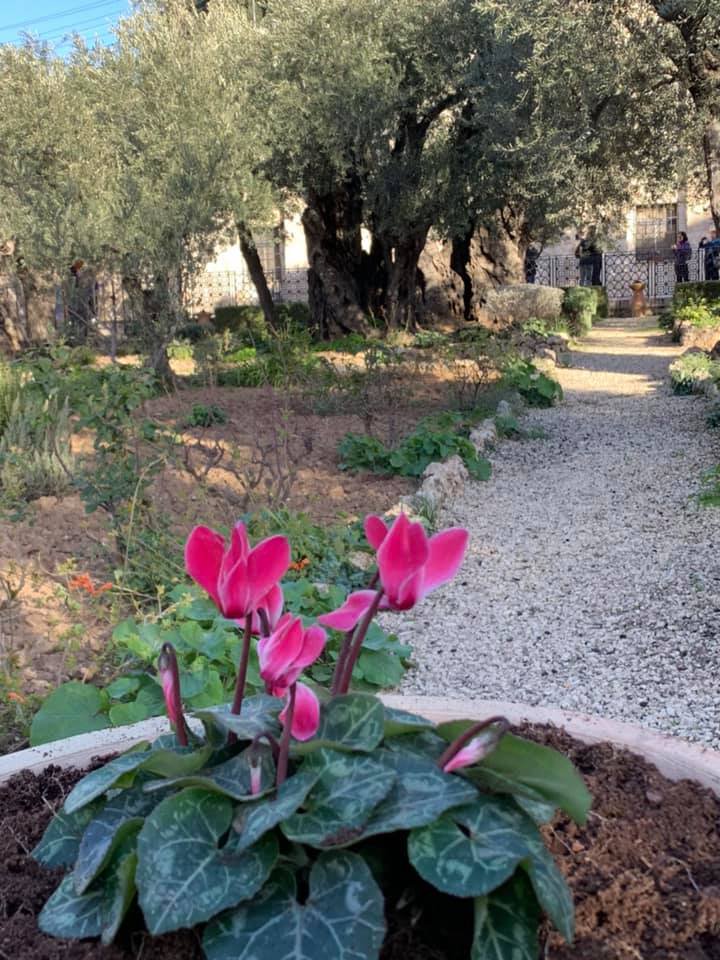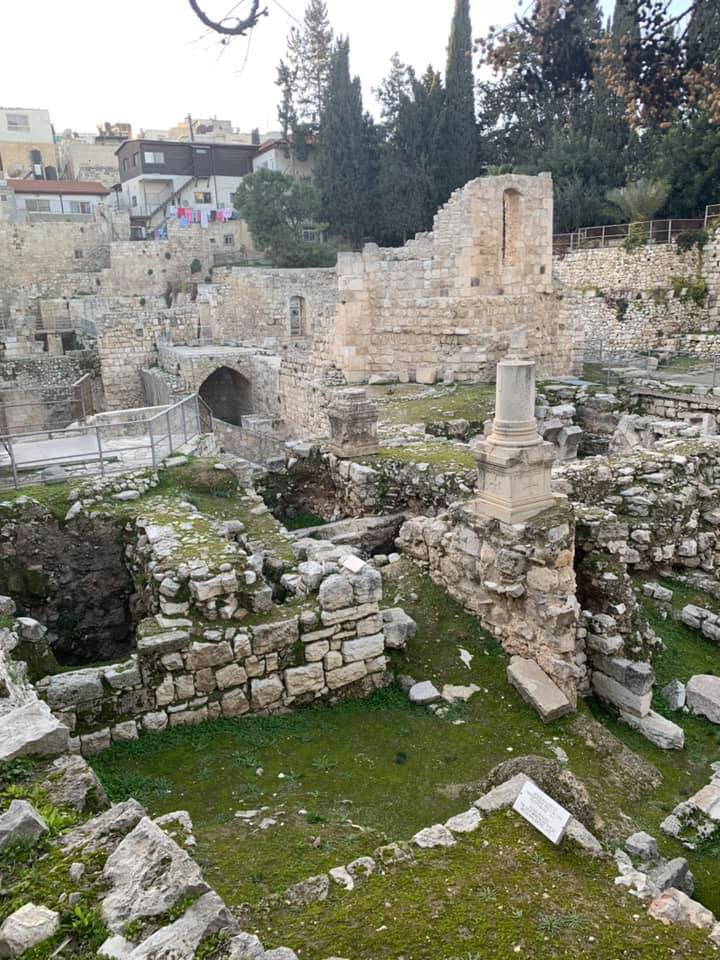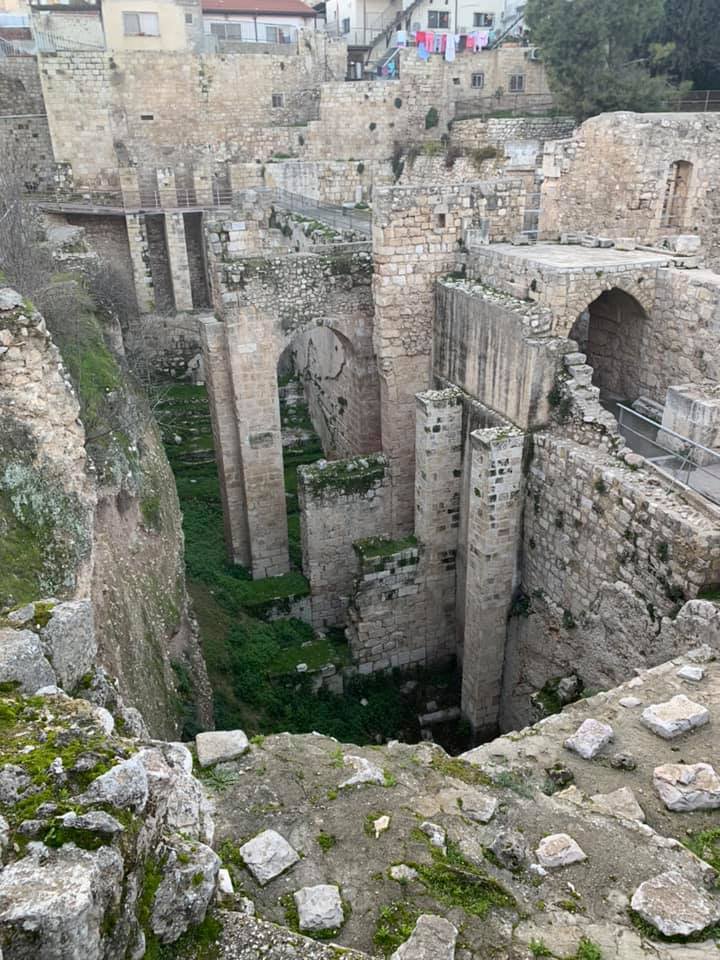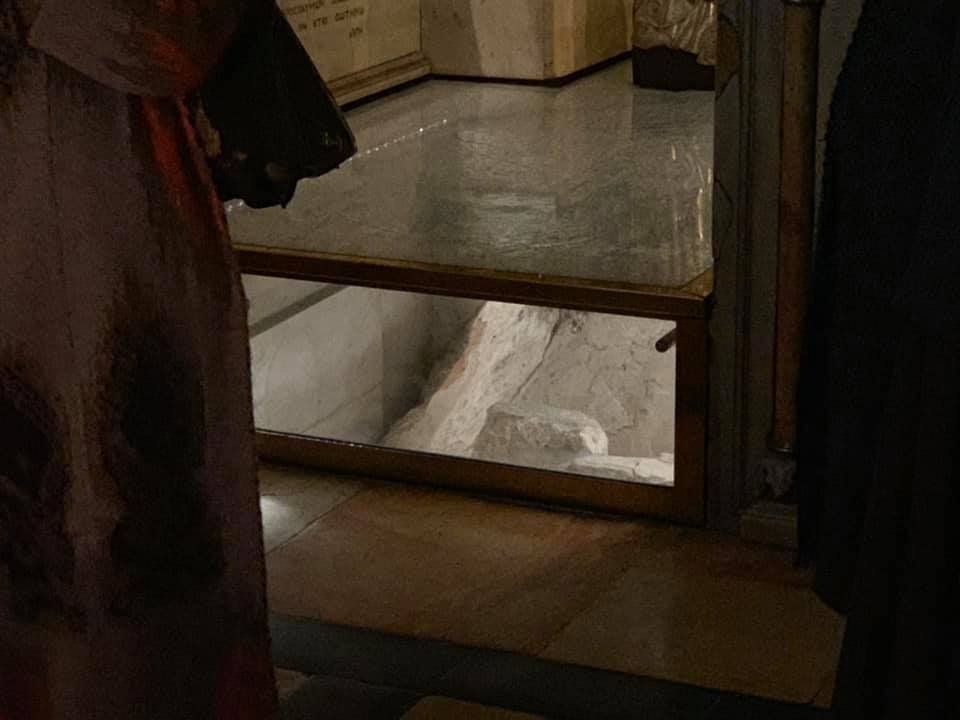 Wednesday January 16, 2019
It is hard to believe but the trip is all but over. We toured for the last day today and tomorrow we have a free day in Jerusalem before heading out to the airport in the evening. What a ride this has been! Today we headed North and a bit West to the Western Bank in Palestine. This is a portion of the trip that most groups do not get to do. This was to trace the history of the Samaritans, those tribes who played a significant and volatile role in the story of Israel. We would be trying to outrun a rain storm the entire day and, by God's grace, we were able to. It began to rain as we boarded the bus after our last stop!
We started the day off about an hour away from Jerusalem in the city of Samaria, not to be confused with the region of Samaria. This is modern day Sebaste. This is the portion of land that King Ahab's (of Queen Jezebel and clashing with Elijah fame) father, King Omri, purchased to give to Ahab. (1 Kings 16:21-28) There were Herodian ruins, seriously, where DIDN'T this guy build! The view from the top of this mountain was amazing and it was too bad that it was overcast or it would have been truly spectacular. Samaria was also the scene of Acts chapter 8:4-25. Philip spreads the gospel to this city and revival breaks out, even Simon the local sorcerer is saved and baptized! The church sends Peter and John to Samaria during this to pray with the new believers. Great Old and New Testament site!
From the city of Samaria it was a short trip to the site of Jacob's well and the backdrop for the story in John 4 of the interaction between Jesus and the woman at the well. At first, I was prepared to be disappointed again because there was a Greek Orthodox Church built over the site. The church was spectacular in its adornment and the iconography but I've seen plenty of churches! However, after a while, the professor led us down a staircase under the altar and there was the actual well. Now, they had built it up a bit but you could look down and see the original stone. I even got to draw water from it! It was a looooooong way down to water. This was one of the single coolest moments among so many cool moments on this journey. To draw water and know that so many in Bible times did the same but also to know that Jesus sat right in that area and engaged the Samaritan woman. Wow!!
After the well, we visited Mt. Gerizim. This is the holy mountain of the Samaritans where they believe Isaac was nearly offered as a sacrifice by Abraham. It overlooked a valley with Mt. Ebal and ancient Shechem would have run right down the middle of that valley between the two peaks. There were the ruins of an immense Byzantine era church that was one of the more impressive structures that we've seen. The wind was whipping around at about 50 MPH and actually knocked me off course a couple of times! This is the coldest that I've been on the trip by far. (It actually snowed today in Jerusalem!) From Mt. Gerizim we ended our trip with a look at ancient Shiloah. This is where the patriarchs and the Israelites lived for a couple of centuries. It was the location of the tabernacle and we got to see the brand new excavation project on the probable site of that tabernacle. This is where Hannah prayed for a child and gave gave her Samuel, this is where Samuel served in the tabernacle and where God called him to be a Kingmaker! I love that story! This was a special place to end our trip for sure!
I am now back in the hotel getting ready to wrap this up and head to dinner. I honestly don't know how I feel right now. I can't say that I had a deeply emotional or spiritual moment although that may very well come in the days that follow but I do know that the Scriptures have come alive for me and that I am rejoicing anew at God's plan and provision. Thanks for sticking this out with me and thanks for your prayer. One more night with the snoring roommate (who really is a spectacular guy and has made it up to me through the bag of Necco wafers that he brought along!) and then its back to my beautiful family! For my CBC family, see you Sunday! I cannot guarantee the shape I'll be in!
Photos
Started the day in Palestine in the ancient city of Samaria (different from the general region of Samaria). This is the land that King Ahab's father Omri purchased. 1 Kings 16:21) Herod built here. (Where didn't he build?) We also visited the site where certain traditions hold that John the Baptist is buried. This is the city that Philip was sent to where revival broke out in Acts chapter 8. Peter and John were then sent to the city to pray over the converts. Another site with soaring views of the olive tree dotted mountains that surround it. This really is a beautiful land. I will admit though, all these ruins are starting to look the same!!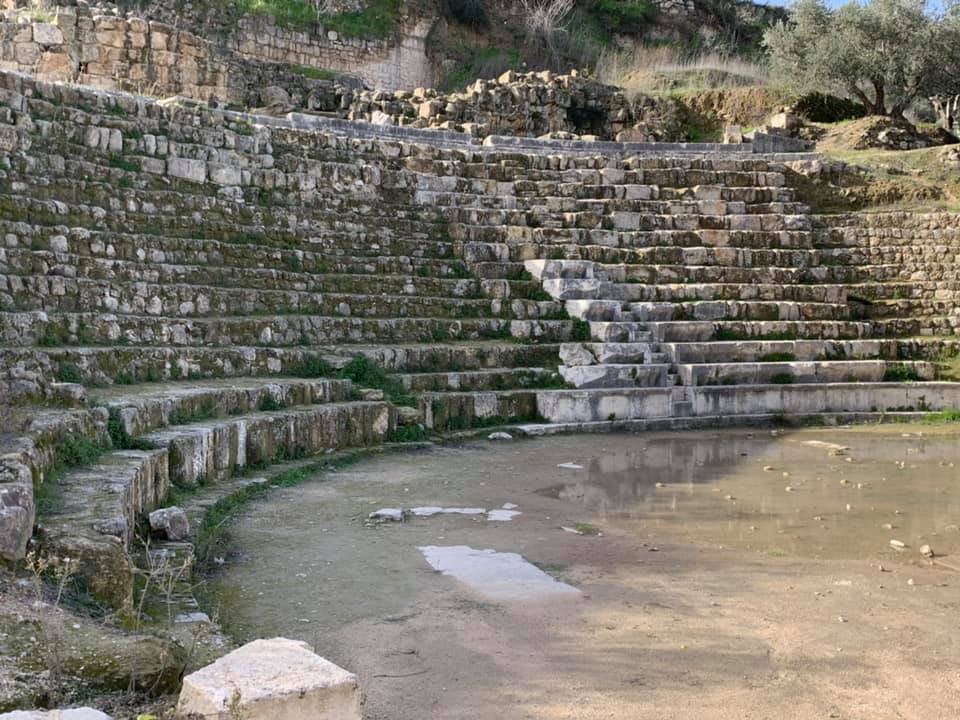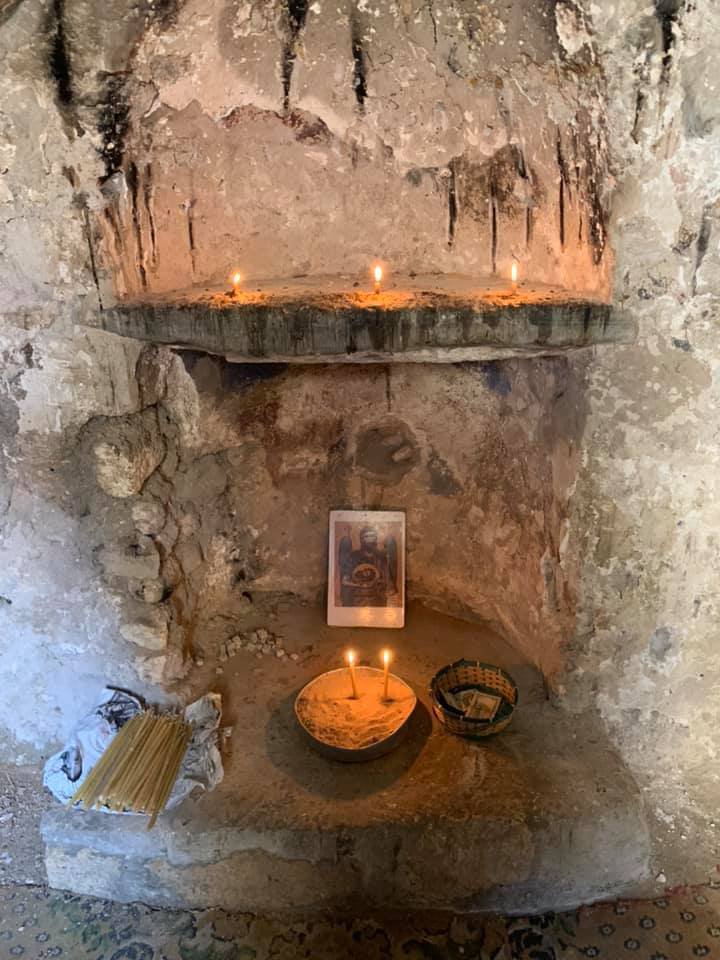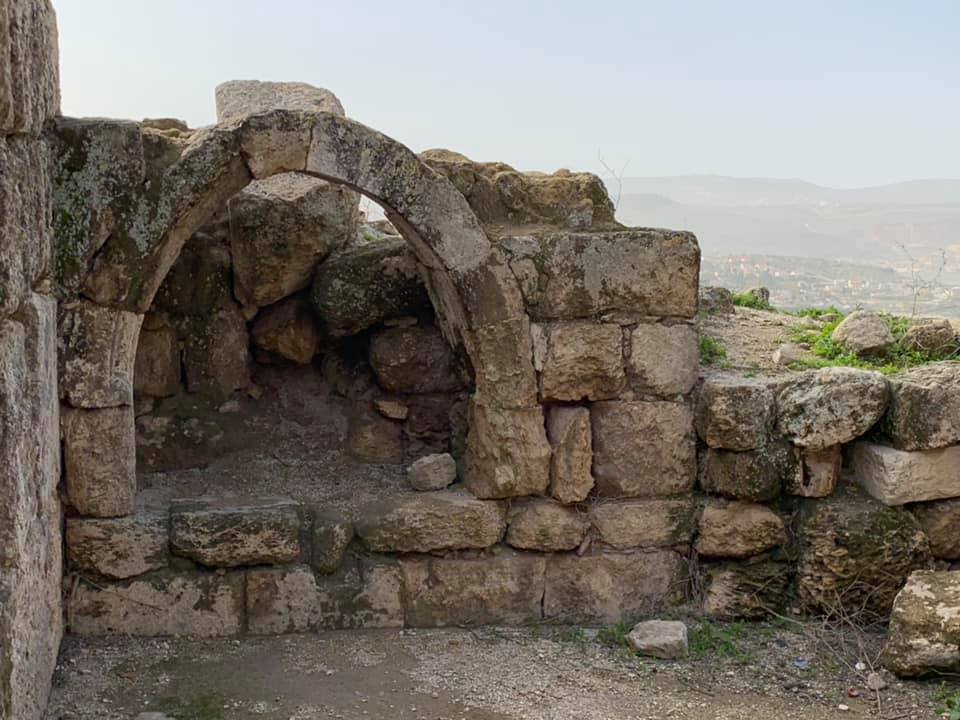 Just visited the site of the story in John 4 about the woman at the well. At first I thought it was just another church built over a point of interest but you do get to go down some stairs and the actual well is still there and VERY deep but still working. I got to draw water from Jacob's well! Good thing too, my camels were thirsty.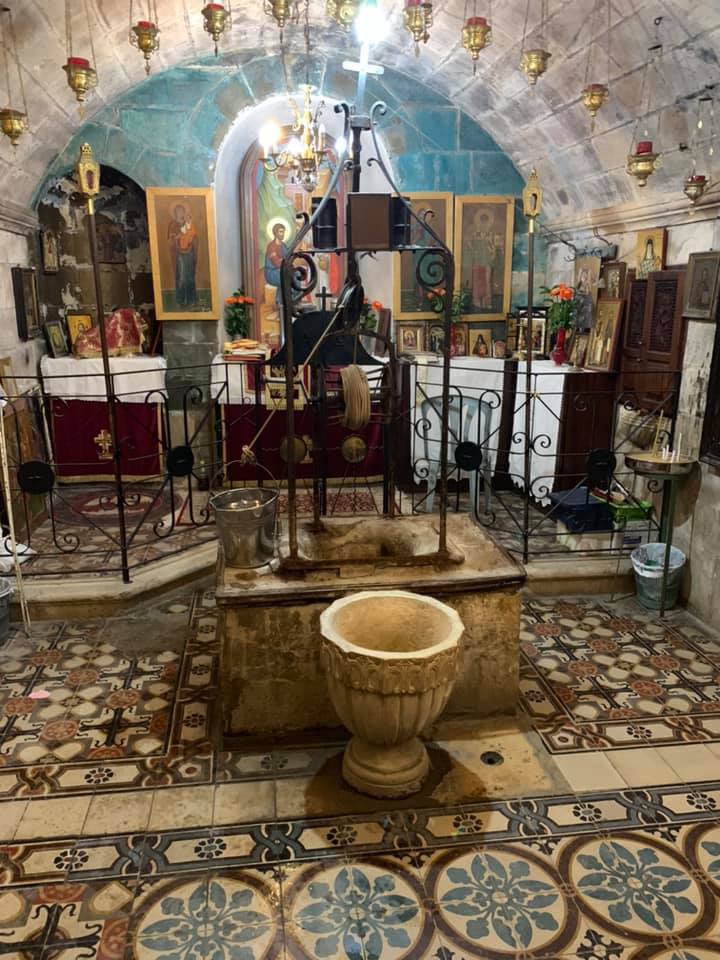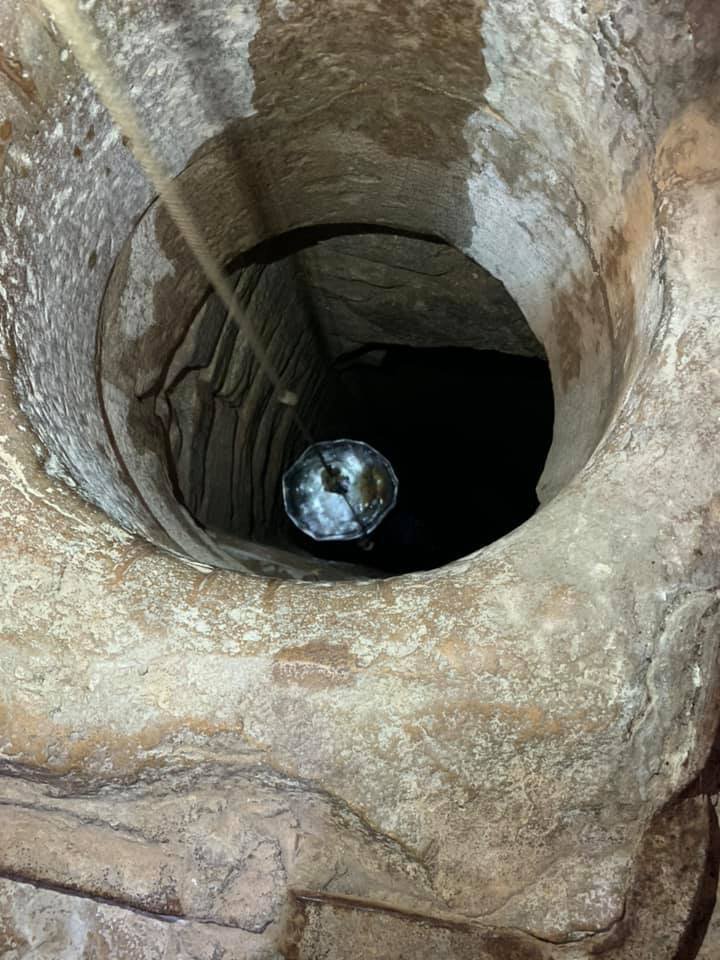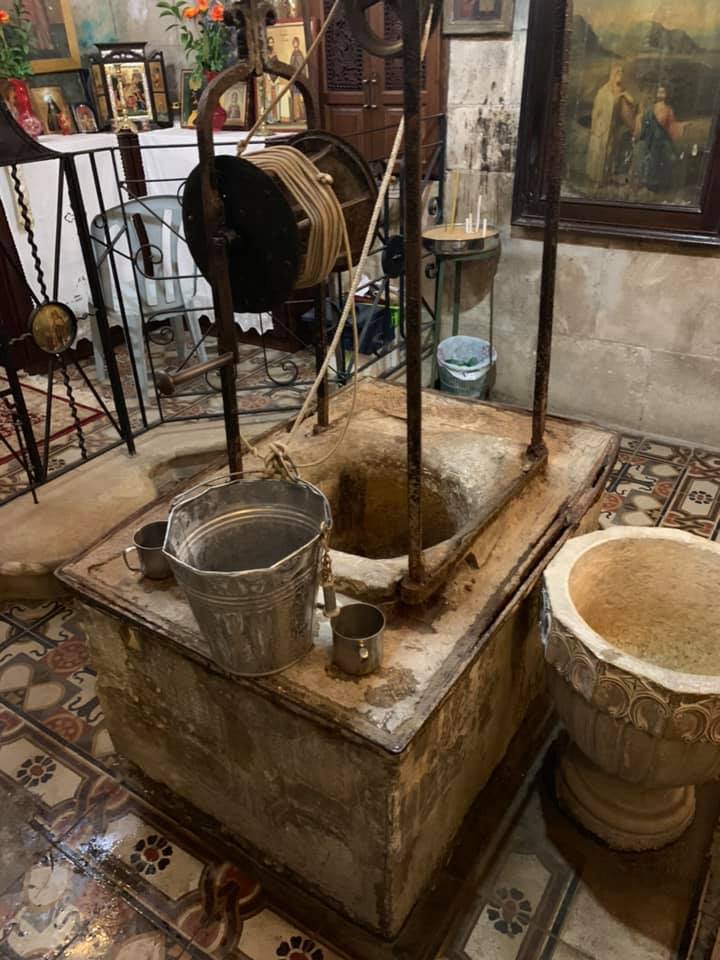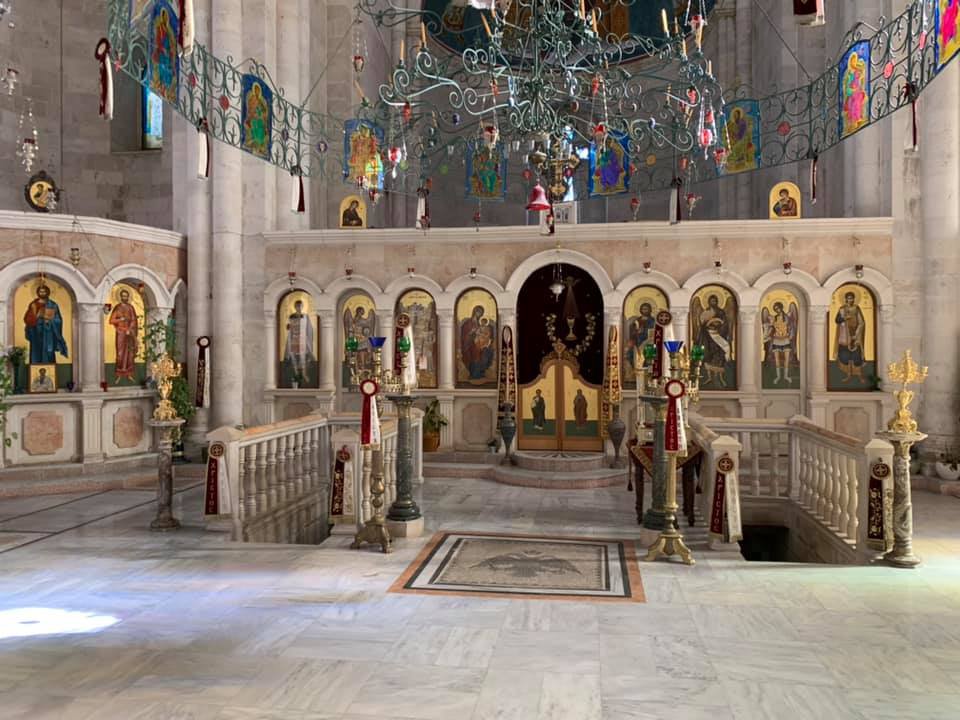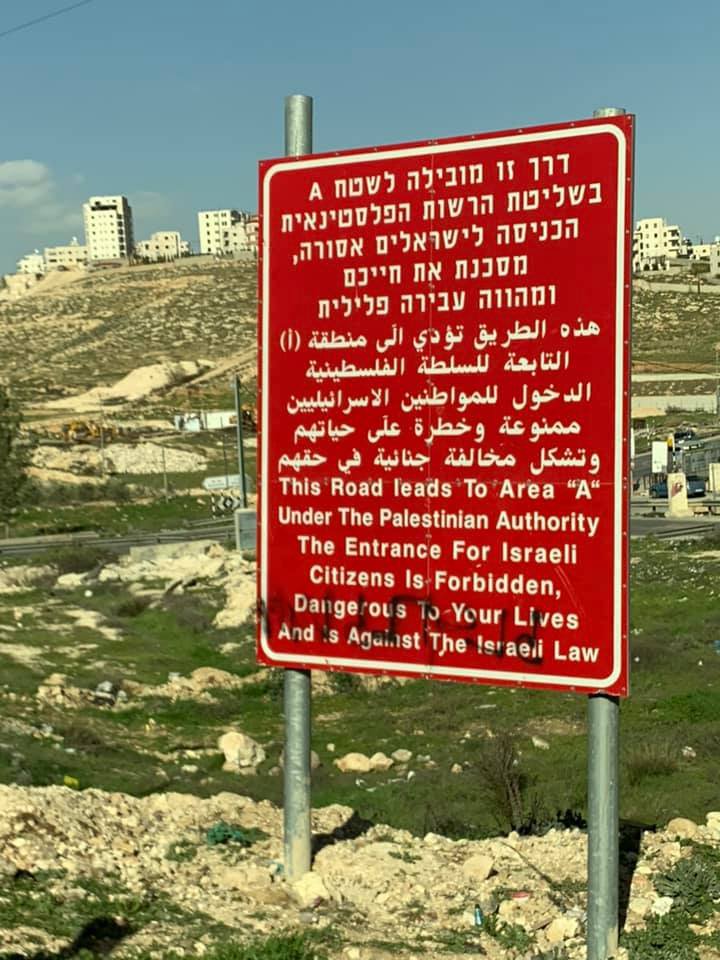 Mt Gerazin in Shechem. The Samaritans believe that this is the holy mountain and the site of Abraham offering Isaac as a sacrifice. What views! The remains are of a Byzantine church.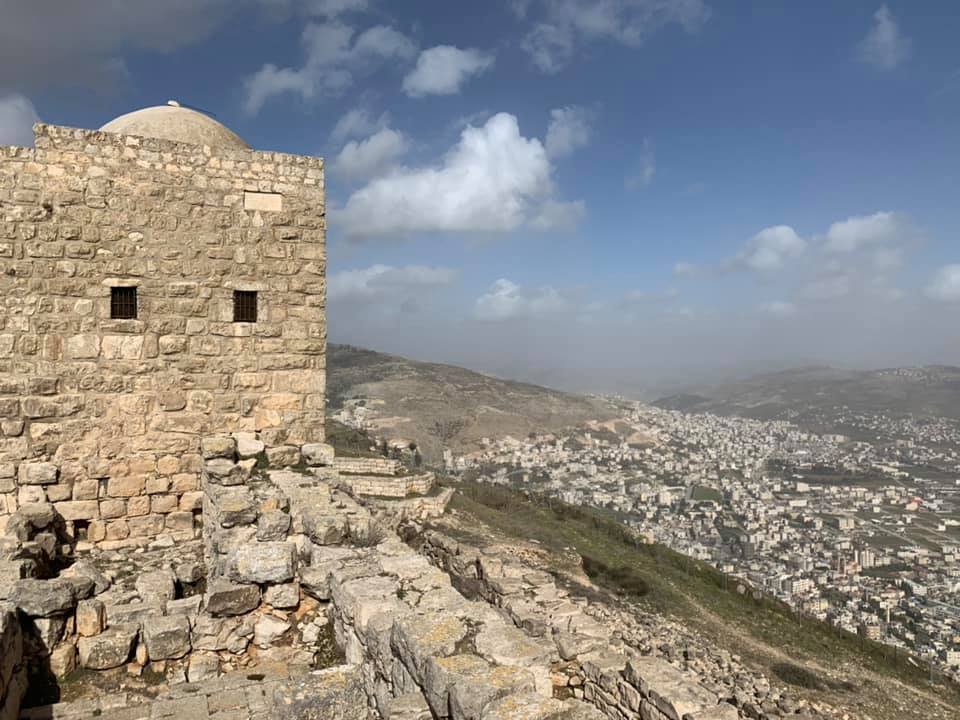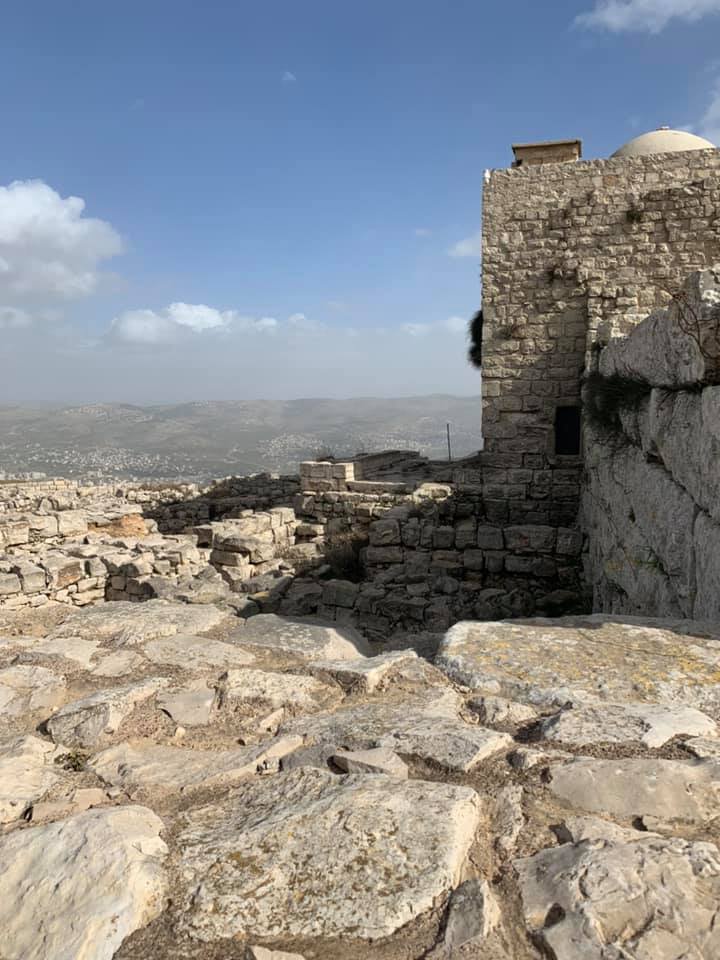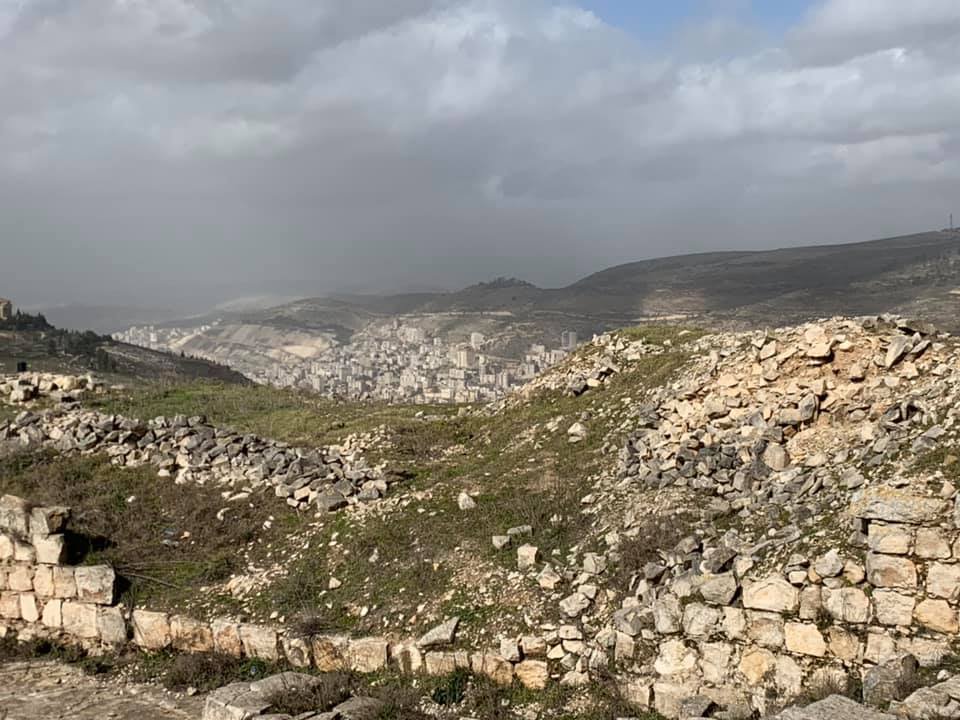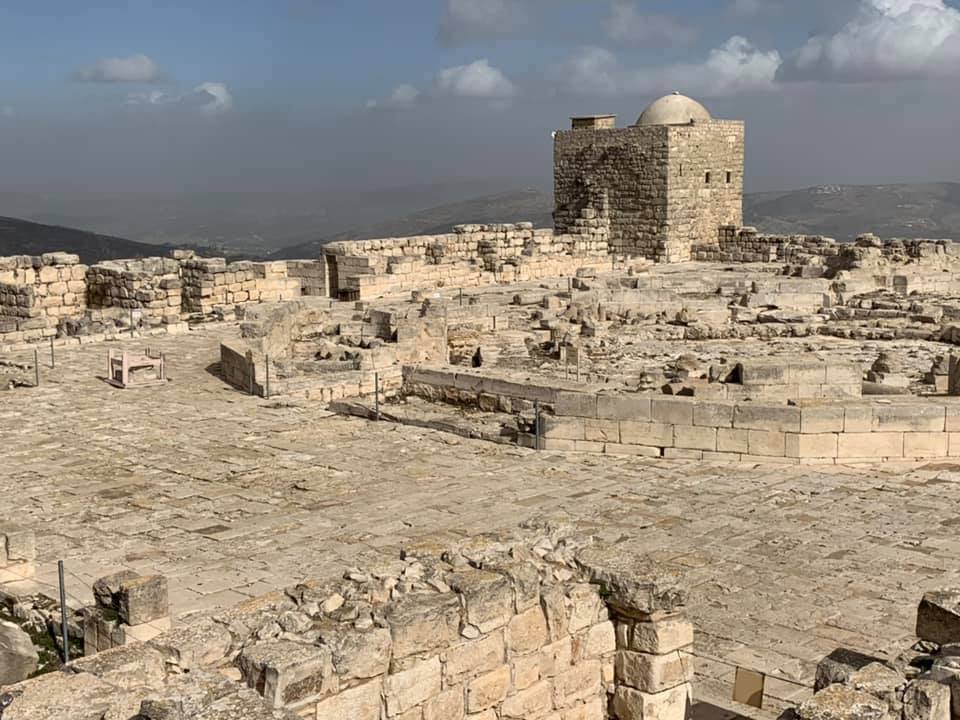 Last site of the day and of the tour. Ancient Shiloh. This is where the patriarchs were settled and the site of the tabernacle where Hanna prayed for a child, the prayer God answered with Samuel. Like many other sites there are many layers and levels to the ruins. A Byzantine Church, a Muslim Mosque, 1st Century, and Iron Age Hebrew. They are now excavating what they believe to be the site of the tabernacle. That's pretty cool, Samuel is one of my favorite stories.